Chili in the Garden - Chili Tasting, Classic Cars!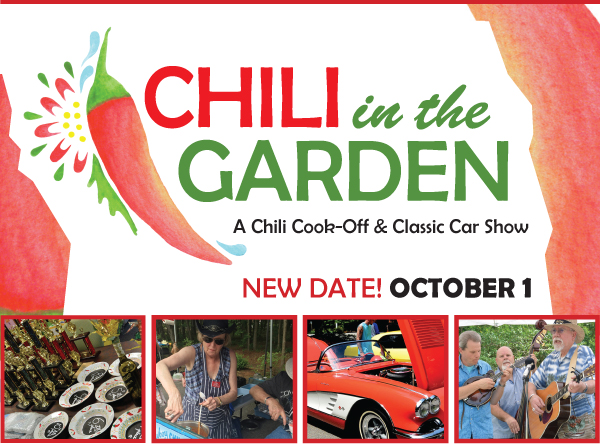 Smokin' chili - hot cars - live music - Maker's Market - family fun!
Enjoy chili tasting, live music, classic car show, wine & beer, family activities & more!
Annmarie members: FREE
Non-member admission: $3.00
Kids 5 & under: FREE
Chili Tasting Kit: $5 for 5 tastes -OR- $12 for 15 tastes
Parking is FREE; sorry, no pets!
Interested in entering your classic car? Car Show Application
Email info@annmariegarden.org or call 410-326-4640
Become a Sponsor!

Awards presented to the best chili and the hottest cars!
Presented in conjunction with the Chili Appreciation Society International (CASI), will include public chili tasting, a classic car show, beer & wine, and live music with rockabilly band the Colliders. Chili in the Garden will also include a great craft market, a scarecrow exhibit, and other fun family activities - all set amidst the backdrop of beautiful Annmarie Garden!
The centerpiece of Chili in the Garden are the cooks from the Chili Appreciation Society who set up their kitchens on site and compete for top chili honors, including the People's Choice Awards. Guests can sample all the recipes by purchasing tasting kits, $5.00 for five tastes or $12.00 for fifteen tastes. As part of the "Red Hot Chili Potters Fundraiser," guests can purchase a handmade ceramic bowl, that comes with five tasting cups, for $20 each. Proceeds from the "Red Hot Chili Potters Fundraiser," will benefit the purchase of new equipment for the Annmarie Clay Studio.
Chili in the Garden will also include rockabilly music with the Colliders, starting at 11:00am. Guests can also enjoy the beautiful classic cars and browse the many booths in the Maker's Market. Opening the same day is a new outdoor exhibit, Scarecrows: Guardians of the Garden, featuring fun and funky handmade scarecrows and garden art. It's a fun-filled fall day at Annmarie with smokin' chili, hot cars, scarecrows, crafts, live music, beer & wine, and more.
Schedule of Activities:
7 :00- 8:30am - Chili Team Registration & Booth Set-up
9:00 - 10:00am- Car Registration
9:00am - event opens to public
10:30am - 1:30pm - Public Chili Tasting & Voting!
10:30am - 1:30pm - Live Music
2:15pm - Chili Awards Presentation
2:45pm - Car Show Awards Presentation
3:00pm - Watch the classic cars leave the site!

On-going Activities (9am-3pm): a variety of food and drink available for purchase all day, plus ---- tour the classic car show, observe the chili teams creating their masterpieces, tour an exhibit, enjoy a variety of family activities (both outside and inside), and kids can play in the Fairy Lolly or tour the fairy house exhibit.
Sponsored By: