Artists In Action
A few months each year, Annmarie's spectacular Main Gallery is transformed from exhibition space into artist studios, allowing visitors the opportunity to appreciate the artistic process as well as the product. Annmarie seeks artists working in any media to submit proposals to set up a working studio space in the Main Gallery for 1-2 week periods. These studios utilize the artist's own supplies and equipment. Artists work in their studios demonstrating their processes and techniques to curious visitors. Artists are also afforded space to hang artwork for sale within the gallery for the duration of their studio time.
It is our goal to expose visitors to the working process of artists—from concept to finished product. As such, this show is ideal for artists working on a large project or series. Artists must be willing to speak with visitors informally about their work and their process. Overnight accommodations for out-of-town artists are available on a first-come, first-serve basis.
Through this exhibition, artists gain exposure, sell artwork, and work in a free studio space in a beautiful setting. This is a nice occasion for a serene retreat to immerse yourself in your artwork. Future group or solo show opportunities may also be awarded.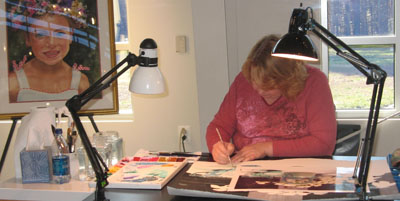 Artist Schedule 2016
| | | |
| --- | --- | --- |
| ARTSIST | DATES | MEDIUM |
| Jackie Clark, New York, NY | Jan.14 – 28 | paint |
| Derek Haffar, Brooklyn, NY | Jan.14 – 20 | sculpture |
| Bev Bley, Fredericksburg, VA | Jan.16 – 23 | mixed media paint |
| Carol Waite, Fredericksburg, VA | Jan.16 – 23 | sumi-e |
| Candace Law, Berkley, MI | Jan.29 – Feb.7 | encaustic mixed media |
| Devin Mack, Towson, MD | Jan.29 – Feb.7 | wire sculpture |
| Laura Laird, Pasadena, MD | Feb.1 – 7 | collage |
| Tricia Hall, St. Leonard, MD | Feb.1 – 7 | jewelry |
| Mary Blumberg, Solomons, MD | Feb.7 – 13 | watercolor paint |
| Ann Preston, Hollywood, MD | Feb.8 – 14 | acrylic paint |
| Iris Hall-Willey, California, MD | Feb.8 – 14 | paint |
| Suzanne Shelden, Prince Frederick, MD | Feb.8 – 14 | acrylic paint |
| Rob Brownlee-Tomasso, Denton, MD | Feb.14 – 21 | mixed media paint |
| Diana Manchak, Ft. Washington, MD | Feb.15 – 21 | ceramic |
| Jimmy Cintron, Solomons, MD | Feb.15 – 21 | jewelry |
| Mickey Kunkle, Solomons, MD | Feb.15 –21 | polymer clay |
| Ann Crain, St. Leonard, MD | Feb.22 –28 | mixed media paint |
| Brandy Lellou, Alexandria, VA | Feb. 22-28 | mixed media |
| Jen Poteet, Sunderland, MD | Feb.22 – 28 | mixed media paint |
| Kristy Kun, Portland, OR | Feb.22 – 28 | fiber |