MLK Days
Jan 18 2020 -

11:00am

-

4:00pm
Jan 19 2020 -

11:00am

-

4:00pm
Jan 20 2020 -

11:00am

-

4:00pm

MLK DAYS 2020!
Celebrate the life and legacy of Dr. Martin Luther King with uplifting
community engagement activities.

Saturday, Jan. 18 - Monday, Jan. 20
11am-4pm each day

Admission is FREE!
Donations Gladly Accepted!
The ultimate measure of a man is not where he stands in moments of comfort and convenience,
but where he stands at times of challenge and controversy.
-Dr. Martin Luther King, Jr.

*** Appropriate for all ages!***

Celebrating Community
Visiting artist will lead visitors in the creation of an uplifting community art projec inspried by the dream of Rev. Dr. King, Jr.t. Meet the artist(s), hear their stories, and work with them to create a unique collaborative art project.
King left us with a wealth of wisdom on how to create a more just, humane, and peaceful world. We celebrate his legacy with art-inspired experiences centered around his nonviolent philosophy.

A Tent of Many Colors -- the Communal Coloring Tent Returns!
The popular community coloring tent will transform the Murray Arts Building into gathering space that is both peaceful and inspiring. Step inside the tent of many colors and enjoy the therapeutic qualities of coloring! Coloring supplies will be available for use and all are welcome. Choose a design, find a seat, make a friend, relax and enjoy the atmosphere. A great space for all ages to enjoy.
Make-&-Take Project in the artLAB
Be inspired and create a one of a kind piece of art to take home!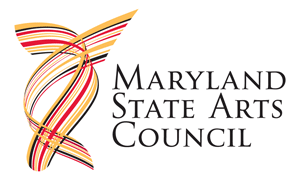 This organization is supported in part by the Maryland State Arts Council (msac.org).