MLK Days 2021: a Virtual Community Event!
Jan 16 2021 -

11:00am

-

12:00pm
Jan 17 2021 -

11:00am

-

12:00pm
Jan 18 2021 -

11:00am

-

12:00pm
11am- 12 pm each day via Zoom; quick registration required to join one of the Zoom gatherings
Members Fee:
FREE virtual event; donations welcome
Non-Members Fee:
FREE virtual event; donations welcome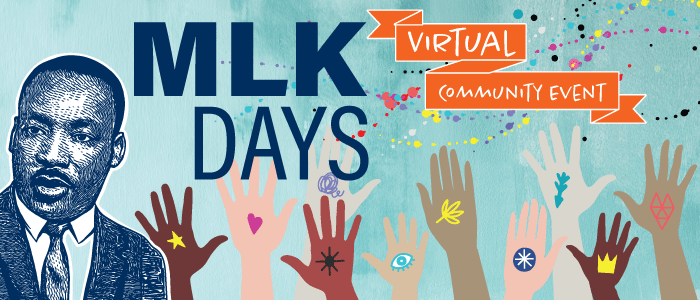 MLK DAYS 2021- FREE VIRTUAL EVENT!
Celebrate the life and legacy of Rev. Dr. Martin Luther King, Jr.
VIRTUALLY with uplifting creative activities.

Saturday, Jan. 16 - Sunday, Jan. 17 - Monday, Jan. 18
11am-12pm each day via Zoom
FREE to participate; REGISTER HERE; Donations welcome

MLK DAYS 2021-- A NEW virtual experience!
*** Appropriate for all ages!***
Dr. King left us with a wealth of wisdom on how to create a more just, humane, and peaceful world. We celebrate his legacy with art-inspired experiences centered around his nonviolent philosophy.
Though the pandemic has forced us to change our typical format, we've reinvented all the elements to create a virtual at-home experience to keep everyone safe, connected, and ready to honor the dream with creative activities!
Read below to see how you can tour an art exhibit and make inspired artwork with our visiting artist from the comfort of home.


Raise a Flag for MLK! A Community artmaking event
LIVE Zoom sessions, Jan 16-18, 11-12pm each day

FREE; RESERVE YOUR SPOT HERE

Join guest artist, Esther Iverem, live on Zoom as she walks participants through the creation of a community art project titled, "Raise a Flag for MLK." Inspired by the artist's quilted works and Dr. King's legacy, the project invites guests of all ages to design a flag using colors, patterns, and words to reflect the values of Rev. Martin Luther King Jr, or your own concerns and ideas about humanity.
Here's how it works:
1. Sign up for one of the FREE virtual artmaking sessions
It's easy and free! Choose from January 16, 17, or 18 options. 11am- 12noon.

2. Reserve a FREE Pick-up supply kit! Kits include "canvas," assorted papers and fabrics, and gloss medium to act as glue and sealer. Call the office at 410-326-4640 to reserve and pick up your kit at our front desk from Jan 9-15. Pick up kits remain available in our gallery through February.

3. OR follow the DIY project instructions on your own
Unable to attend our Zoom gatherings? You can still create a flag! Project supplies and simple instructions can be found here.
Meet Esther Iverem, our virtual artist-in-residence!
Meet our virtual resident artist, Esther Iverem, a multi-disciplinary artist, writer, and independent journalist living and working in Washington DC. Chat with the artist virtually, learn about her process, and create a unique art project. Explore Esther's gallery show, Memory and Signal, in our Main Gallery or virtually on our website. Gallery show on view January 16- February 28, 2021.
Learn more about the gallery show here.
The ultimate measure of a man is not where he stands in moments of comfort and convenience,
but where he stands at times of challenge and controversy.
- Rev. Dr. Martin Luther King, Jr.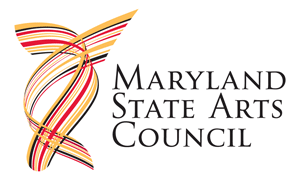 This organization is supported in part by the Maryland State Arts Council (msac.org).