Green Life Festival & Market
Jun 4 2022 -

9:00am

-

2:00pm
Members Fee:
FREE; donations gladly accepted
Non-Members Fee:
FREE; donations gladly accepted

Saturday, June 4, 2022


9:00am - 2:00pm

FREE COMMUNITY EVENT!
Presented by the Calvert County Citizen's Green Team
What can you do to make a difference in the world? It all starts locally!

Join us for a fun and inspiring day of hands-on learning, playing, discovering and engaging with the people, products, and information you need to live a sustainable and healthy lifestyle. Learn how to reduce your ecological footprint and conduct your life in a way that is sustainable, naturally balanced, and respectful of our relationship with the Earth. Explore the links between a healthy you and a healthy world, including your mental and physical health, diet, home & yard, transportation, and resource and energy consumption. Talk with green product and service exhibitors and learn more about how we can create a healthy community. Learn how and where to buy local. Meet creative people working to make this a better world. It's a day full of inspiration and new ideas!


---
Sponsor the 2022 Green Life Festival & Market
Excellent Benefits & Local Engagement
Event Sponsorship Info Sheet & Print Form | Online Sponsor Registration
View All 2022 Annmarie Event Sponsorship Opportunities
---

You can make a difference - it all starts here!
There will be presentations and demonstrations throughout the day, including booths that will share the many ways that plants, air, water, soil and energy sustain our homes, our health, and our planet. Children will enjoy recycled art projects and activities. The Festival features healthy and/or organic dining options, along with homegrown entertainment.
10:00-10:45am – Will Yeckley
11:00-11:45am – Kelly Ostrow
12:00-12:45pm – Kelly Ostrow
1:00-1:45pm - Roundhouse String Band
FOOD VENDORS:
Dan D's Concessions & Catering
Visitor info:
Masks are not required, but encouraged;
No smoking, no vaping;
Rain or shine;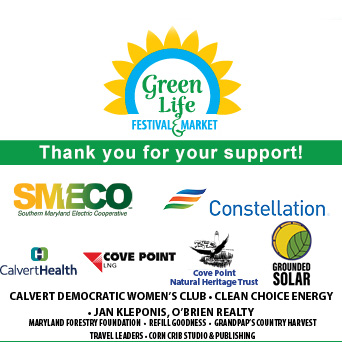 2022 Sponsorship Opportunities Now Open - Sponsorship Form (pdf)


VENDOR APPLICATIONS:

​
Green Team Mission Statement

The Calvert County Citizens Green Team works to promote sustainable lifestyles by identifying and sharing innovative green technologies hosting a Calvert County Green Expo and encouraging environmental stewards

hip among county citizens in their workplace, homes, and communities.




























Article Links

Calvert's sixth annual Green Expo better than ever
Southern Maryland Newspapers Online May 9. 2014

Calvert County Green Expo teaches about conservation
by Bethanne Monaco on April 24, 2013

Being Green is Easier Than You Think
by Margit Miller on April 22, 2013

Calvert's Green Expo Grows in the Garden
by Marty Madden on April 21, 2013


by Marty Madden on May 1, 2012

by

Margit Miller/Staff Writer/Editor on April 30, 2012

by JOSEPH NORRIS, Staff Writer on April 27, 2012

Staff Report on April 26, 2012

by Susan Shaw, Calvert County Commissioner on April 26, 2012

by MEGHAN RUSSELL Staff writer on April 18, 2012

by

jonbenya on January 22, 2011

Wednesday, April 28, 2010