Garrett Music Academy's Camp Discovery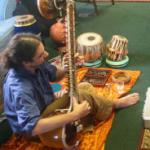 Start Date:
Aug 8 2011 - 9:00am
-
Aug 12 2011 - 12:00pm
Series:
week-long, half-day camp
Annmarie Sculpture Garden is excited to welcome Garrett Music Academy's Camp Discovery to our site!
What is this thing? How do I play that? WOW. That's a cool sound! Campers take a musical journey through all the elements and instrument of music. From the classroom to the performance room, to the recording studio, kids will see first-hand the different perspectives of musical development. Fun hands-on activities will keep kids so excited that they will want to discover with us year-round.
CLICK HERE TO REGISTER or contact Garrett Music Academy at (410) 286-5505.