Artful Yoga for Kids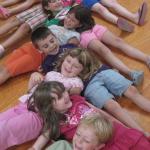 Start Date:
Oct 6 2011 - 5:00pm
Additional Dates:
through Nov 10 2011
Time(s):
Thursdays, 5:00pm -6:00pm
Instructor:
Cristal Toribio
Let's combine creativity and physical exercise to enjoy an artful yoga experience! Let's inspire healthy habits, through yoga poses, active movement, and creative art projects. Project materials are provided--just bring a beach towel or yoga mat and a bottle of water.