Beginning Basketry: Out-the-Door-Quickly Basket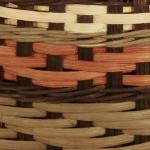 Materials Fee:
$24 due to instructor at class
Instructor:
Mary Pat Hollis
Great for beginners-- join us as we explore the basics of basketry and weave a reed basket that measures 10"H x 6.5"W x 6"D. Learn to start from a solid base and practice basic weaving techniques as you create a basket that has a woven Shaker tape hanger perfect for hanging from a doorknob or wall. Various color choices will make your basket unique. A fun and easy way to get started in the world of basketry!