Fairy & Gnome Home Festival
Admission:
Members FREE; Non-members $5; kids 2 & under free; no pets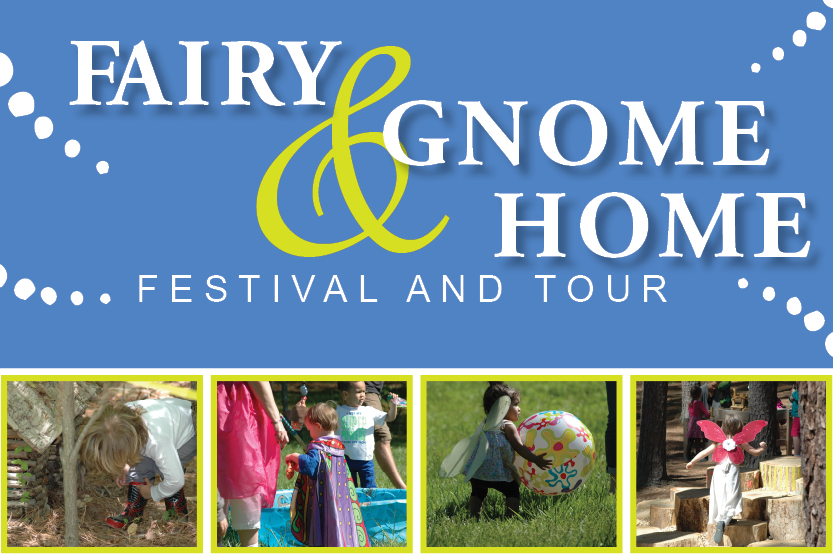 Sunday, April 23, 2017
Noon - 4:00pm
Special Sunday hours: the garden will open at Noon on Sunday, just in time for the Fairy House Festival!
Rain or shine! This is a smoke-free event. Sorry, pets are not allowed at the festival.
You are invited to a magical afternoon of creative play, games, unicorn rides, a petting zoo, bubble magic, music, crafts, and more! Along our enchanted Wooded Path, you will find a Fairy Lolly, the Troll's Treasure Trough, Gnome Games, Fantasy face painting, strolling entertainers, and a petting zoo full of baby animals! Build your own fairy house or gnome home, and engage in a variety of imaginative activities! It's an unforgettable day in the garden! Food and drinks will be available as well!
Scroll down for all the details . . .


Your Magical Day:
● Search for more than 60 handmade Fairy Houses and Gnome Homes!
● Design your own Woodland Crown using natural elements and other doo dads.
● Create a Goodluck Gnome in the artLAB.
● NEW!
Take a Unicorn Ride and visit with the sweet baby animals at
Mary's Go Round Petting Zoo!
● Play in the Fairy Lolly - a magical play area for Kids!
● Dig for buried treasure in the Troll's Treasure Trough
● Have your photo taken with a Fairy Queen!
● Enjoy magical strolling entertainers! (listed below)
● Fantasy Face painting & Fairy & Gnome Tattoo Parlor
● Build your own Fairy House or Gnome Home!
● Wander the Wooded Path, enjoy Enchanted Chalk Walk and other surprise activities!
● Play a variety of Gnome Games, visit the Fairy Fishing Hole, and more!
● Visit the fairy vendors to purchase your own costumes and accessories and
dress up for the day!

Entertainment Schedule - 2017 schedule coming soon!
On the Hungerford Patio
12:15 – 1:00 pm
Abigail Francisco School of Classical Ballet presents magical dances and performances
1:15 – 2:00 pm
Kristen Meyer performing songs from her album Where Fairies Dwell
2:15 – 3:00 pm
Painted Trillium performing Celtic and Folk music
3:15 – 4:00 pm
Magical Hoop Dancing by The Hula Hoop Fairy
Enjoy searching the garden for more than 50 handmade fairy houses and gnome homes!
From pine cones to glitter, the houses are made from all sorts of fabulous materials!