Fairy & Gnome Home Festival
Admission:
Members FREE; Non-members $5; kids 2 & under free; no pets
Did you know fairies love the rain? We've moved many of the activities indoors, but bring your umbrella and goulashes so you can enjoy our wonderful outside activities too! See you on Sunday!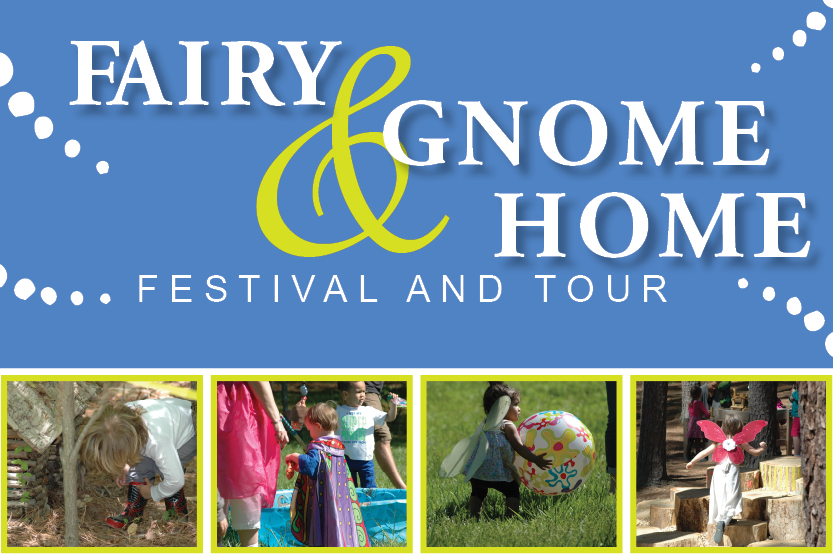 Sunday, April 23, 2017
Noon - 4:00pm
Rain or shine! This is a smoke-free event; please, no pets.
You are invited to a magical afternoon of creative play, games, unicorn rides, a petting zoo, bubble magic, music, crafts, and more! Along our enchanted Wooded Path, you will find a Fairy Lolly, the Troll's Treasure Trough, Gnome Games, Fantasy face painting, strolling entertainers, and a petting zoo full of baby animals! Build your own fairy house or gnome home, and engage in a variety of imaginative activities! It's an unforgettable day in the garden! Food and drinks will be available as well!
Scroll down for all the details . . .


Your Magical Day:
● Search for more than 60 handmade Fairy Houses and Gnome Homes!
● Design your own Woodland Crown using natural elements and other doo dads.
● Create a Goodluck Gnome in the artLAB.
● Take a Unicorn Ride and visit with the sweet baby animals at
Mary's Go Round Petting Zoo!
● Play in the Fairy Lolly - a magical play area for Kids!
● Dig for buried treasure in the Troll's Treasure Trough
● Have your photo taken with the Chesapeake Mermaid!
● Enjoy magical strolling entertainers! (listed below)
● Fantasy Face painting & Fairy & Gnome Tattoo Parlor
● Build your own Fairy House or Gnome Home!
● Wander the Wooded Path, enjoy Enchanted Chalk Walk and other surprise activities!
● Play a variety of Gnome Games, visit the Fairy Fishing Hole, and more!
● Visit the fairy vendors to purchase your own costumes and accessories and
dress up for the day!

Entertainment Schedule
On the Hungerford Patio
12:15 – 1:00 pm
Abigail Francisco School of Classical Ballet presents magical dances and performances
1:15 – 2:00 pm
COSMIC Flute Choir
2:15 – 3:00 pm
Kristin Rebecca, harp music
3:15 – 4:00 pm
Painted Trillium, Celtic and Folk music
And there's more!
Meet The Chesapeake Mermaid & Larvey the Magical Bivalvian
Marigold Bumbleroot will mesmerize with her amazing bubbles
Chesapeake Bay Hoop Troupe will dazzle with their hoop antics
Mary's Go Round Petting Zoo & Unicorn Rides
Wind Song, Mark Giuffrida will be strolling the garden with fanciful tunes
Participating Vendors
Gypsy Soul
Dotties Designs
The Bee Hive – Hair Buzz
Jenns Eye View
Indigo Moon
Fairy Garden Treasures by Garnetteh
Princess Treasury
Spin It Again
Spirit Stone
Sometimes Sleep
Suds and Sandals

Food

Blue Wind Gourmet
Hardesty Haven Catering
Prince Frederick Rotary Club
Calvert Kettle Corn
Kona Ice of Calvert County
Johnson Family Funnel Cakes
Mrs. Moo's Corner
The Nutty Bavarian