Fairy & Gnome Home Festival
Admission:
$7 per person; Members free; kids 2 & under free; no pets, no smoking/vaping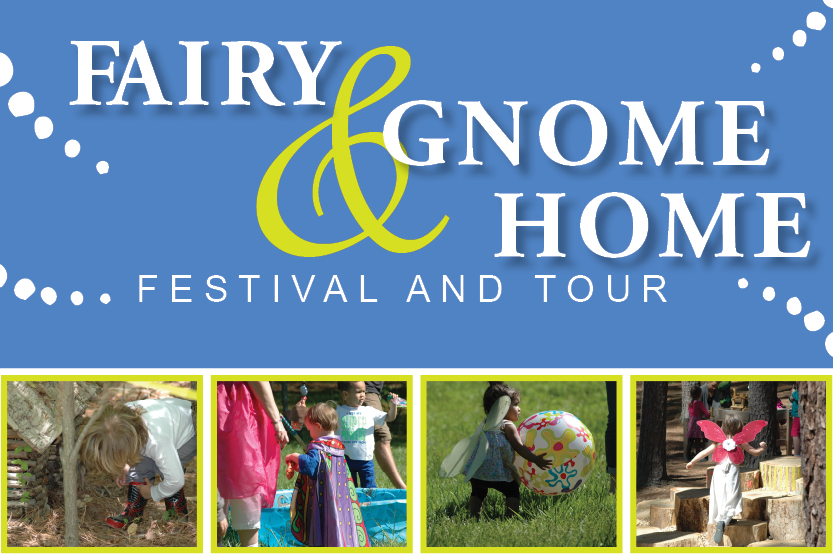 Sunday, April 14, 2019
11am - 4:00pm
Rain or shine! This is a smoke-free event; please, no pets.

Enjoy an over-the-top magical afternoon of creative play, games, unicorn rides, a petting zoo, face painting, crafts and more! Meet the Chesapeake Mermaid and the Green Man of the Forest. Journey to the magical realms of Fairy Lolly, Stone Spire Circle, Bubblelandia, Gnomeville, Treetopia, Land of Mystical Creatures, and The Dragon's Lair. Build your own fairy house or gnome home, make a journey stick, craft a fairy house finder, make a pinecone suncatcher, visit the Wishing Tree, and engage in a variety of imaginative activities! It's an unforgettable day in the garden! Music, food, and drinks will be available as well!
Scroll down for all the details . . .


Magical lands, you'll visit at the festival:
Most activities are included with your admission. Those that have additional cost are marked with "$"
The Fairy Lolly
A wonderfully whimsical natural play space where kids can run, jump, climb, perform and more!
Go exploring for treasures at the Fairy Grove Mining Company, our mining sluice. $
Search for hidden treats in the Treasure Trough
Say hello to a Fairy Godmother
Dragon Slayer's Lair
Visit the artLAB to make a take home creation as magical as you wish!
Design-a-Dragon
Take a keepsake photo at the gallery of Magic Wings
Tavel through the "Eggsibit" in the Nature Nook and discover lots of fun facts about egg-layers and meet our egg-laying friends
Fairytale Theater - schedule to be announced!
Take a seat on the patio and be entertained throughout the afternoon!
12:15 – 1:00 pm:
1:15 – 2:00 pm:
2:15 – 3:00 pm:
3:15 – 4:00 pm:
Stone Spire Circle
Build a rock cairn
Make a pebble mosaic
Meet the Troll Master
Bubblelandia
Twirl to the music in a shower of bubbles and create giant bubbles of your own!
Joel Tuminaro will supply magical handpan music
Gnomeville
Build a fairy house with natural elements found at the Garden, always a crowd favorite!
Take photo with a couple of Happy Gnomes
Treetopia
Make a dazzling pinecone suncatcher for your window
Make a wish and add it to the Wishing tree!
Meet the Green Man
Land of Mystical Creatures
Visit the petting Zoo with baby animals!
Take a ride on a unicorn! $7.00
Say hello to the Chesapeake Mermaid and hear her stories about helping to protect the environment. She's bringing her friend Larvey, the Magical Bivlavian
And there's more!
We encourage visitors to dress up and make the most of your magical experience; fairies, trolls, gnomes, anything goes ... we love them all!
Tatoos and Facepainting Always adds a little magic! $
The Magical Marketplace
Shop for fairy-themed items at our market.
MGT art
The Bee Hive-Hair Buzz
Chesapeake Beach Soap Company
Fairy Garden Treasures by Petal Echo
Suds and Sandals
Spin It Again
1980 – Princess Treasury
Jenn's Eye View
Royal Banquet Hall

You won't go hungry with our festival food vendors: