The Great Windchime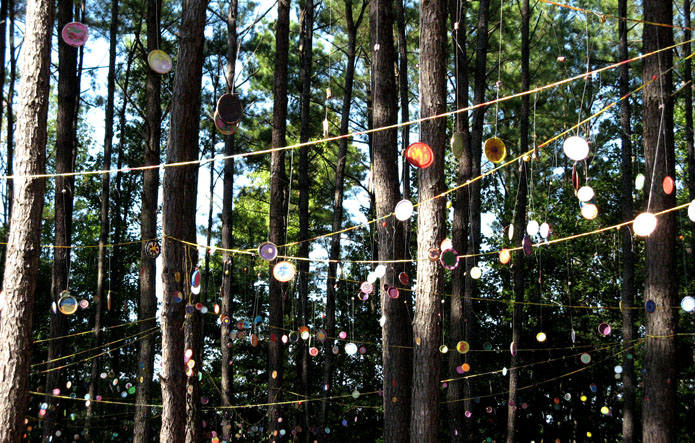 The Great Windchime




Free Summer Public Art Project 2006

The Great Windchime was the playful result of a summer-long public art project. Throughout the season, Garden visitors created personal chimes which dangled in The Great Windchime @ AMG. New life was given to old jar lids as visitors painted and decorated them with string and beads. A grand total of 2675 chimes hung on over 1800 feet of paint-dappled rope. Toddlers, parents, grandparents, local artists, and even a few elementary school teachers and their students helped make The Great Windchime @ AMG exceed the current world record of 2500 chimes spanning a distance of 1640 feet. Does that mean this is the world's largest windchime display? While the application to formally beat the world record is still being processed, we'd like to think so!

The Great Windchime was graciously sponsored by PT Tiki, Inc., Robert's Restaurant, Custom Electrical Service, Great Coupons!, Maerten's Fine Jewelry and Gifts, Bay Watch Realty, J. Christian McCready, CPA, Collinson, Oliff, & Associates. Mimi Litle, John Burroughs, Michelle Goodwin, and The Bay Weekly. Special thanks to Beth Beighley and the art students at Mutual Elementary School, Sharon Johanneson and the art students at Appeal Elementary School, and the many volunteers who helped install The Great Windchime. This project truly was a community effort!