Summer 2022: Bay Totem
Summer Community Art Project 2022: Bay Totem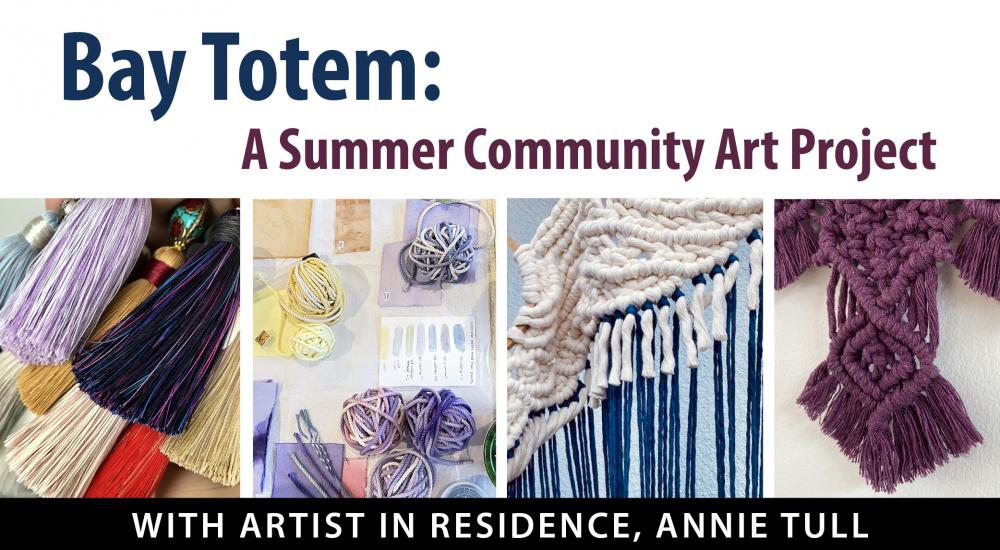 Stop in the artLAB any day through August 7, to contribute to Bay Totem, an ever-growing macrame bird sculpture, conceived of by Calvert County artist, Annie Tull. Guests of all ages are invited to make a tassel that Annie will use to build the wings of the macrame bird. To learn more about Annie's work, CLICK HERE
Love this project and want to do more?
Join Annie for one of the more in-depth
Community Art Sessions
to gain a deeper understanding of Annie's artistic practices and make larger contributions to the bird-inspired macrame sculpture.
Daily Visitor Participation (self-guided fun!)
Make a lovely tassel out of natural materials that will become part of Annie's bird sculpture!
Daily, July 11- August 7, 10am - 5pm in the artLAB
Drop in any day from July 11- Aug 7 to design a unique tassel to hang from the sculpture! Great for any age! Leave your tassel here and Annie will incorpodate it into the bird sculpture! Visit later in the summer or fall to see the completed project!
Community Art Sessions (work with the artist!)
Work with the artist on other important aspects of the project!
No registration required- just RSVP to programs@annmariegarden.org. All ages welcome with adult supervision.
July 15, 11am-1pm Foraging walk for cordage and dyes
Take a guided walk through the grounds and learn how to identify and sustainably
harvest natural materials for making dyes and ropes.
July 22, 11am-1pm Hands-on botanical dyeing demonstration
Using the foraged materials from last week, along with other fun botanicals from the
artist's collection, learn the basics of making dye from plant matter while coloring the
ropes to be used in the final installation.
July 29, 11am-1pm Advanced Tassel Techniques
If you've enjoyed making tassels in the artLAB, come learn how to craft more intricate
tassels using basic macrame techniques and specialty cords/
August 5, 11am-1pm Putting it all together!
Wondering what all those tassels are for? Come help put the finishing touches on the
bird sculpture by attaching the tassels to the wings!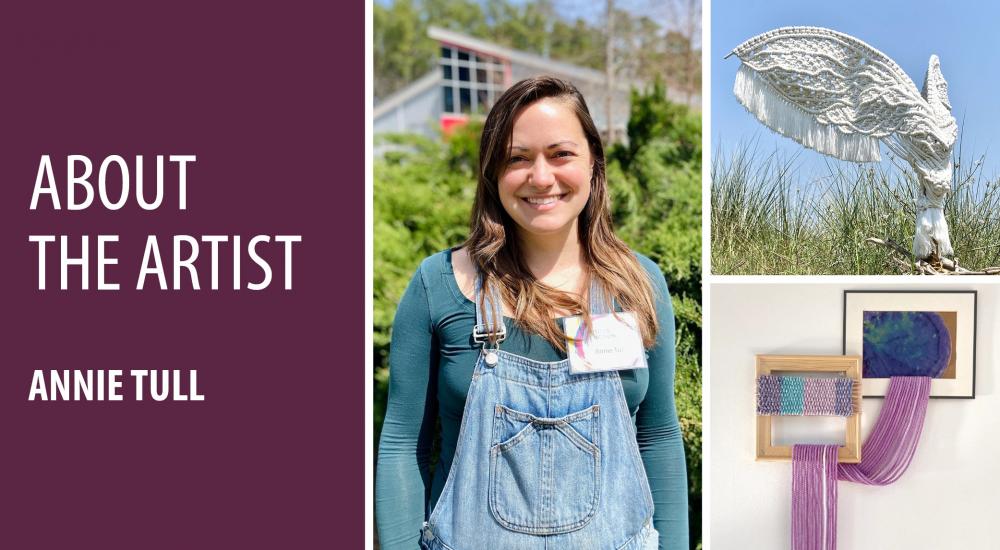 ABOUT THE ARTIST
Annie Tull is a compassionate visionary working at the intersection of fine art and permaculture. Annie Tull uses repetition and rhythm to push the boundaries of color and line. Her sustainable site-specific installations are created from organic cotton rope and plant-based dyes. With dual background in interior architecture and fine art, she uses rope as a means of connection toward a goal of closing the gap between people and planet. By exploring the creative potential of an ordinary household material like rope, Tull hopes to create visual experiences that are honest, intentional, and tied back to the land. She is committed to a creative practice with an earth-first ethos.