Bring Your School/ Youth Group to Annmarie!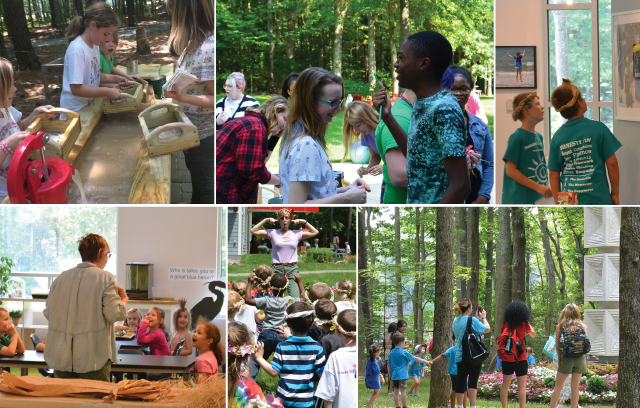 Bring Your Group to Annmarie!
With plenty to do both inside and outside, Annmarie is the perfect spot for your group. Art, imagination, science, math, history, language arts and more--our program staff can develop an engaging and creative program to fit your curriculum needs. Our creative programs will help you reinforce concepts, introduce new themes, and encourage critical thinking in a fun arts environment.
Choose from one of our packages or ask us to create a special tour experience just for your group. Annmarie can accommodate any age group. And we've got plenty of room for lunch time!
2023 Spring/ Summer Field Trip Reservation Form
IMPORTANT FIELD TRIP INFORMATION--
Spring/Summer Field Trips (April-August)
-- It's Fairy Season! Field trip reservations require a non-refundable $50 reservation fee. Please read all details carefully before you submit your reservation.
GROUP SIZE-- Groups with 15 or more children MUST use the field trip form for a pre-planned visit. Groups must have a minimum of 15 children and a maximum indicated in each package (80 for summer groups; varies for school groups). Groups exceeding this size are asked to break their visit into 2 days.

SCHEDULING-- field trips must be scheduled and paid for in advance; field trips are scheduled according to staff and docent availability. Please arrive 10 minutes prior to your scheduled visit.

IF YOU ARRIVE EARLY-- Groups that arrive early must remain on the bus until you have been invited to disembark. Please send one adult inside to the front desk in the Murray Arts building to check in.

CHAPERONES -- We require 1 adult per every 5 children for preschool group, and 1 adult per every 10 children for school-aged groups. Chaperones and teachers must be at least 18 years or older. Prior to your arrival, students and chaperones/teachers should be divided into equal groups of no more than 20 students.

LENGTH of VISIT & ITINERARY -- Field trips last 2.5 hours-4 hours depending on the number of children and the activities chosen. For large groups, an itinerary and rotation schedule will be emailed to you once payment is received and trip is confirmed. For summer groups, each small group will rotate through different pre-arranged outdoor activities; each rotation is about 30 minutes. A lunch break can be built into the rotation. There is plenty of seating area for lunch; depending on the weather, lunch is taken inside or outside. For school groups, your students will be divided or together based on the package you pick. An AMG staff member will facilitate this for you.

MEMBERS-- Annmarie Members who visit with the group must pay the group rate. Annmarie Membership benefits, coupons, or admission discounts do not apply to group tours or field trips.

CHILDREN'S RATES—all children are the same price for field trips, regardless of their age.

BOOKING/FEES-- Spring/Summer field trips require a $50 Non-Refundable Reservation Fee to reserve your date. School field trips do not require a reservation fee. For both, we will send an invoice for the balance due to the email provided. The remaining balance is due no less than 14 days before your scheduled visit. All field trip fees are non-refundable.

LATE BOOKING FEE-- Field trips scheduled within 14 days prior to their visit will be charged an additional $25 late booking fee. All fees are non-refundable.

FIELD TRIP / GROUP TOUR FEES – Field Trip fees are calculated in advance and are based on the total number of people that we are asked to accommodate. We ask for the maximum number of students so we can prepare the adequate number of supplies for your group. If your group contains less than covered in your payment, refunds will NOT be given for the difference. Please note for summer field trips, the non-refundable reservation fee must be paid in advance; the tour will not be scheduled until fee is received. The remaining balance may be paid by business check, cash, or credit card. Checks should be made payable to "Ann's Circle."

BE READY TO ENJOY THE OUTDOORS -- Please dress for the weather as most of your visit will be spent outdoors! All guests should apply bug spray and sunscreen prior to arrival. All guests should bring their own water canteen, which can be refilled at Annmarie.

SOUVENIRS— There is a small kiosk of kid-friendly souvenirs in the art gallery with items ranging $2-$20+. Student groups are welcomed to shop this area as long as they are accompanied by two adults and enter the area only 5 at a time.

PRIVATE CLASS REQUESTS-- If you have requested a private art class, we will contact you with details and a price quote. We will email an invoice to you once we assess your needs and schedule your class.

PARKING—Parking is free and can accommodate buses. Upon arrival, the bus may pull in front of the Murray Arts Building . An Annmarie staffer will greet the bus and the students. If you arrive early, please wait until you have been invited to disembark. Buses can park anywhere in the circular lot if there is space. If the lot is full, we will direct the buses to our adjacent event parking field.

CANCELLATION POLICY: If a field trip is cancelled due to inclement weather, every effort will be made to re-schedule the tour. Annmarie Garden does not refund for cancelled field trips.

QUESTIONS? Contact the Garden office at 410-326-4640 or programs@annmariegarden.org.