Mission And History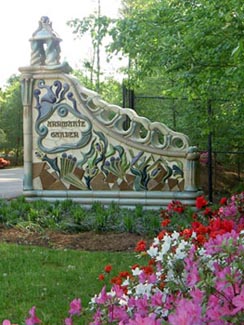 Mission

Annmarie is committed to connecting people to art and nature. Through a wide variety of engaging exhibits, programs, classes, public projects, and annual events, Annmarie opens up opportunities for creativity, collaboration, and reflection. By providing opportunities for visitors to experience and engage in imaginative activities, Annmarie seeks to nurture the human spirit and contribute to a healthy society.
Management
The 30 acre grounds of Annmarie Sculpture Garden is owned and supported by the Board of Calvert County Commissioners. In accordance with the lease and management agreement, Annmarie is operated by the Koenig Private Foundation, a private, non-profit, charitable organization. The many activities and programs of Annmarie are supported by Ann's Circle, Inc., a 501 c 3 non-profit organization. Ann's Circle offers a membership package with a variety of attractive benefits. Membership is open to all!
Funding
The thirty acre property that comprises Annmarie Sculpture Garden is owned by Calvert County and relies on the support of three entities for its operating budget, capital improvement budget, and events and programming budget. An annual grant from the Calvert County Commissioners defrays part of the cost of day-to-day operation and maintenance of the Garden. Funds from the non-profit Koenig Private Foundation are used to augment County funding for operation and maintenance, and to fund improvements such as sculpture installation and security upgrades. Funds raised by Ann's Circle, Inc. support all the events, classes, workshops, and programs at Annmarie.

Construction of the award-winning Arts Building, which opened in 2008, was funded by five main sources: the State of Maryland, the Calvert County Commissioners, Friends of Annmarie Garden, the Koenig Private Foundation, and Ann's Circle, Inc.
History
In 1991, Francis and Ann M. Koenig donated this property to Calvert County with the intention that it be developed into a sculpture garden. Over the next decade, their dream took shape as six works of art were installed on the thirty acre property. These diverse pieces are fully integrated into the natural setting of the Garden and provide the opportunity to develop an appreciation for the seasonal changes inherent in outdoor art. In addition to the sculpture, the walking paths were created and the allies, or hallways, were cleared. The lovely allies allow visitors to look across Annmarie and have created areas for the installation of sculpture. In 2003, Annmarie became a member of the Smithsonian Institution's Affiliations Program. This program has allowed the Garden to borrow more than twenty-five pieces of sculpture form the Smithsonian's Hirshhorn Museum & Sculpture Garden. In 2008, the Arts Building and the Studio School opened, allowing Annmarie to dramatically expand its programs and activities.