Welcome to Annmarie!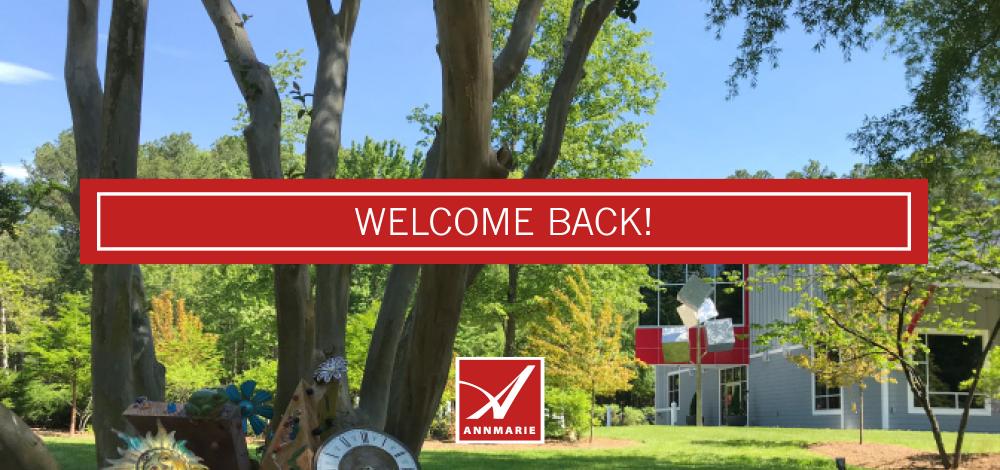 NEW! Extended evening hours Thursday-Saturday!
HOURS:

Sunday - Wednesday
​Grounds: 9:00am-5:00pm
Arts Building: 10:00am-5:00pm
Thursday - Saturday
Grounds: 9:00am-7:00pm
Arts Building: 10:00am-6:30pm

Our garden & galleries are open!
Sculpture Walk & Trails are open!
Murray Arts Building is open! This is a spacious indoor area with two art galleries. Masks required inside.
Fairy Lolly Creative Play Space is open!
The

Enchanted Summer Celebration

has begun! DETAILS HERE
Masks are encouraged outside, but not required; maintain at least 6' from other family groups.
Please note that the only bathroom open to the public is located at the Studio School.
Most of the seating and picnic tables have been removed from the park. Please bring your own chairs and blankets.
ADMISSION FEE INFORMATION

DID YOU KNOW? Only 25% of our operating budget is provided by county funding. The remaining 75% is raised through our many programs, events, and activities, including revenues from daily admissions. Every bit helps! Thank you!
PLEASE PAY WHAT YOU CAN- during the COVID crisis, we are following a "pay what you can" practice. We suggest a $5 admission donation per person. Any amount is greatly appreciated.

Non-member suggested donation is $5/person
Admission is FREE for members - please consider becoming a member!
We've also created a list of handy links to keep you connected to official sources of information - click on any box (below) to start exploring resources. And please, if you need anything, you can reach us at info@annmariegarden.org. We are here to help!







| | |
| --- | --- |
| | |
| | |
| | |
| | |
| | |
| | |
Annmarie Sculpture Garden & Arts Center is located in scenic Solomons, Maryland, where the Patuxent River meets the Chesapeake Bay. The sculpture garden features a 1/4 mile walking path that meanders through the woods past permanent and loaned sculpture, including over thirty works on loan from the Smithsonian Institution and the National Gallery of Art. Artists in the collection include: Antonio Tobias Mendez, Barbara Hepworth, Cesar, Robert Engman, Jean Arp, Kenneth Snelson and Fransisco Zuniga.
The award-winning Arts Building features rotating exhibition space, a gift shop, and a sunny patio. Annmarie presents a variety of popular annual festivals, rotating exhibitions, family activities, and creative public programs. The Studio School offers classes for all ages and abilities - from pottery to dance - taught by professional artists and arts educators.
Come explore this special place where art and nature meet!