Francis and Ann Marie Koenig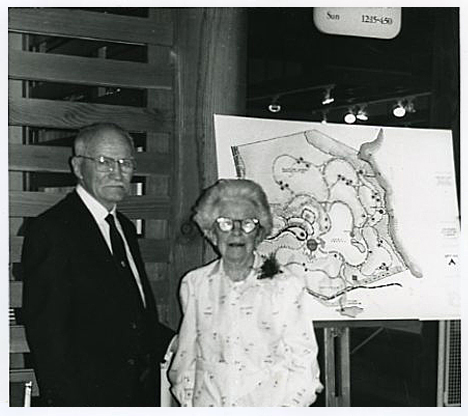 Who is Annmarie?
"Everything I have built in my life will someday be taken down. Annmarie Garden will always remain." - Fran Koenig

Francis and Ann Marie Koenig first came to Calvert County in 1955 seeking a retreat from his career as an architecht/builder/developer in Washington, DC. They quickly fell in love with the area and in 1956 built a beach house in Long Beach. Soon they became avid sailors and could often be found heading out of Flag Harbor Marina on their sailboat, "Annmarie." They shared their love for the area with their family, taking their grandchildren for walks through the American Chestnut Land Trust on Parker's Creek.
As an investment opportunity in 1960, Francis and Annmarie Koenig purchased 30 acres of land in Solomons, Maryland. After thirty-two years and many offers from developers, Fran began to see his investment as a unique opportunity to give something back to an area that he loved.
In 1991, the Koenig family donated this property to Calvert County with the intention that it be developed into a sculpture park. Named after Fran's wife, Mrs. Ann Marie Koenig, the Garden began to take shape over the next decade as six permanent works of art were installed.
Francis and Ann both passed away in the 1990s, but their dream lives on. Today, Annmarie Garden stands as a gesture of the gratitude that the Koenigs felt for the years spent at their beach home on the Chesapeake Bay. Their generous and precious gift provides a unique setting in Calvert County for visitors to explore a place where art and nature meet.
Francis & Ann M. Koenig
Born in Chicago in 1910, Francis was the first of seven children. While the first few years of his life were spent in Chicago, Francis did most of his growing up on a farm in the Shenandoah Valley of Virginia. As chief caretaker, he became interested in drafting by building chicken house and brooding facilities, and as a result built his first board and T-square. He applied for a job as a carpenter's helper at the age of sixteen and as a result of that job was inspired to pursue a career in architecture.
Due to increasing demand for help on the farm, Francis was only able to complete seventh grade. He studied architecture through International Correspondence Schools and by the time he as eighteen he was drawing plans for houses, churches, store remodeling, restoration of farm buildings, and "hunting boxes." These same drawings he would see to completion. As Francis said, "I have been so much more fortunate than my contemporaries in architecture, because I was intimately involved in the execution of my drawings and my ideas. Others feel that they were spared the onus of the sweat and lunch boxes of the proletariat. I say I was blessed a thousand-fold through participation. I learned construction techniques and, more importantly, worker limitations. Most architects never learn this."
The year 1935 saw Francis move to Washington, DC. After a stint as a "spec-builder," he was employed as a designer-in-residence for Kennedy-Chamberlain where he designed houses. He then moved on to work as a drafter for Harvey Warwick, the chief architect for Gustave Ring, and in 1940, became the vice president of Ring Engineering Company. It was during this period he designed and oversaw construction of Colonial Village (2nd phase) in Arlington, Virginia, the Carlyn (now Gateway Georgetown), the Marlyn, and the Dorcester House in Washington, DC. After a career as a captain for the Army Corps of Engineers during World War II, Francis began designing and developing on his own. He designed and built many subdivisions, office buildings, and churches in Maryland and Virginia, as well as his own house in Arlington, Virginia, in 1949.
In 1955, Francis discovered a plot of land overlooking the Chesapeake Bay on the western shore. The area, known as Long Beach, became the Koenig's haven for escaping the hustle and bustle of metropolitan life. He built the "beach house" in 1956. For a couple who traveled all over Europe and enjoyed many trips to the Caribbean together, he and his wife Ann both agreed that the view from the kitchen table at 234 Overlook Drive was the best in the world.
Francis and Ann soon became avid sailors. They purchased their first sailboat in 1965, affectionately named the Annmarie. On any nice weekend one could find them spending their time sailing the bay with their dachshund Hansel. Soon they were on overnight trips to Solomon's Island and the Choptank and Little Choptank Rivers.
As an investment opportunity in 1960, Francis purchased a thirty acre plot of land located on St. John's Creek in Solomon's Island. Thirty-two years passed and after many offers from other developers, Francis saw the land as an opportunity for something unique. Instead of building a condominium complex, hotel, or another similar structure which would eventually be replaced in years to come, Francis had an idea for a sculpture garden. In gratitude for the many enjoyable years he spent on the bay and in Calvert County, Francis donated the land which in perpetuity would remain Annmarie Garden. As Francis was known to say, "Everything I have built in my life will someday be taken down. Annmarie Garden will always remain."