Date:
Jan 16 2021
-
Feb 28 2021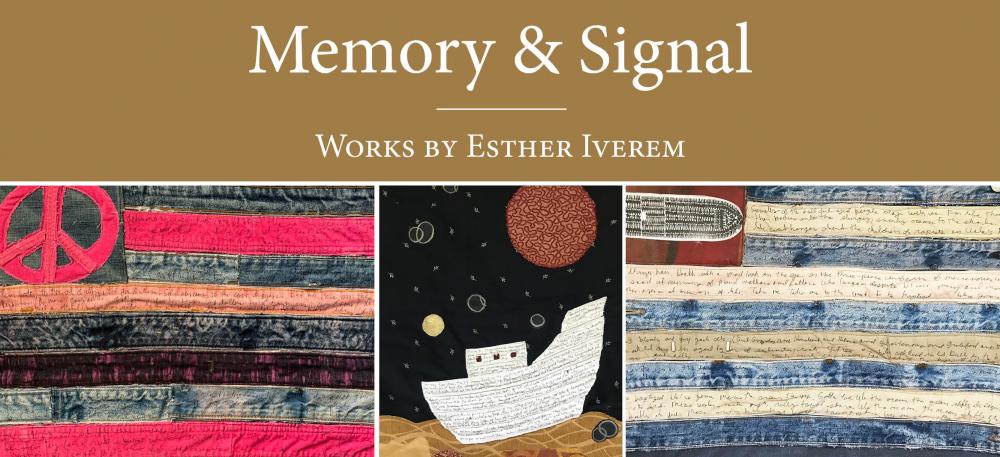 Memory and Signal, launched after a year of uprisings against racism in the United States, is Esther Iverem's exhibit of flags, quilts, soft sculpture and other textile works dedicated to the legacy of the Rev. Dr. Martin Luther King, Jr. Many of these works include excerpts from her writing and digital images that add to the narrative of history and resistance that she wants to stress in honoring King's legacy of fighting for justice, a sustainable future for humanity and the planet.
Esther Iverem is a multi-disciplinary artist, writer and independent journalist. Her diverse body of work is about social justice and human existence—its history, current state and possible futures. It is also about the environment, including mysteries extending into the universe. Since 2010, her fiber and multi-media works have been featured in solo and group shows and acquired for personal collections. Until February 2021, her quilt "Through Many Dangers, Toils and Snares," is traveling throughout the U.S. with "Enduring Ideals: Rockwell, Roosevelt and the Four Freedoms," organized by the Norman Rockwell Museum. Her award-winning literary and visual art project, "Olokun of the Galaxy," includes a book, soft sculpture and toys inspired by an African spirit for the deepest ocean. Before working as an independent writer and artist, she was a staff writer for national newspapers including The Washington Post. Now she is creator, producer and host of the nationally syndicated radio show and podcast 'On the Ground: Voices of Resistance From the Nation's Capital," and a recipient of numerous awards and honors. She is a 2018 Fellow in the Humanities for the DC Commission on the Arts and Humanities and received a National Arts Journalism Fellowship at Columbia University. Her other books include We Gotta Have It: Twenty Years of Seeing Black at the Movies (Hachette Book Group) and two other books of poems, The Time: Portrait of a Journey Home and Living in Babylon (Africa World Press). She is a native of Philadelphia, a graduate of the University of Southern California and Columbia University, and lives in Washington, DC. Her art studio is www.legacyquiltsandart.com.
TAKE A VIRTUAL TOUR OF THE SHOW
Date:
Feb 19 2021
-
Sep 26 2021
Gallery:
Kay Daugherty Mezzanine Gallery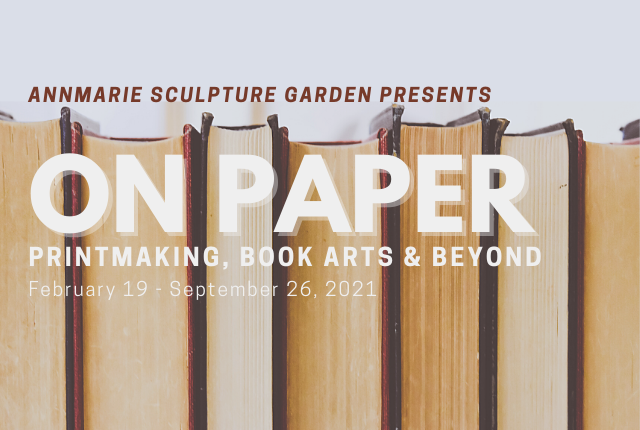 On Paper: Printmaking, Book Arts & Beyond
February 19 - September 26, 2021
Deadline to apply: January 8, 2021, 5pm EST
The Kay Daugherty Gallery at Annmarie Sculpture Garden & Arts Center will feature On Paper: Printmaking, Book Arts & Beyond. Selected work will highlight the expanse of printmaking and book arts as an artistic discipline. Techniques such as relief printing, etching, lithography, paper making, book binding, letterpress, collage and papercut will be explored. All works should showcase the unique process and craftsmanship that goes into each handmande paper, print, or collage.

Select media welcome; small to large-scale works; indoor and outdoor works; cash awards will be presented.
Juror:
Curator, Graphic Arts Collection
Division of Work & Industry
National Museum of American History