Date:
May 30 2020 - 5:00pm
-
Aug 30 2020 - 5:00pm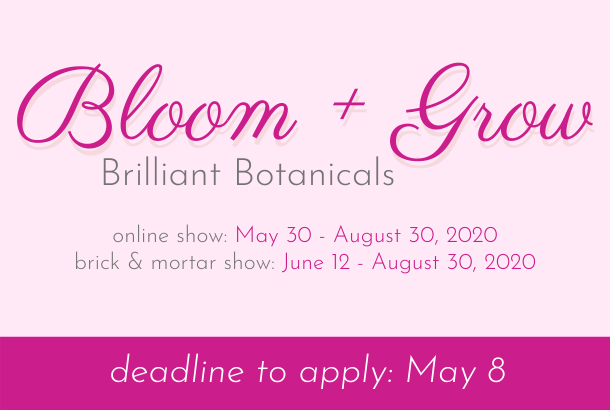 Bloom & Grow: Brilliant Botanicals
May 30 - August 30, 2020
NEW! COVID-19 SCHEDULE -- due to the current COVID-19 pubic closures, we have altered our schedule and developed a two-part plan. We will start with an online show on our website and social media accounts, and then move to a physical gallery show once the public gathering restrictions have been lifted. Please note this means the artwork delivery dates and the gallery show dates may change as we progress through this crisis. If your work is accepted, we will keep you informed of any changes. Current details are listed below.
Online show: May 30 - August 30, 2020, on our website, Facebook, and Instagram feeds.
Brick & Mortar show: June 12- August 30, 2020, Main Gallery, Murray Arts Building
(subject to change based on the COVID-19 crisis)

Bloom & Grow is a lush, colorful, and wide-ranging celebration of floral and botanical art. From biblical depictions of the Garden of Eden, to the plein air art of the Impressionists, to the bold stylized motifs in pop culture, depictions of flowers are plentiful throughout art history and visual culture. Bloom & Grow will feature works that continue these traditions, as well as works that push beyond to explore the symbolic, the emotional, the environmental, and the personal connections we have with flowers, plants, and all things that grow outdoors.

DEADLINE to apply: May 8, 2020
Date:
Jul 11 2020
-
Jul 12 2020
Gallery:
Main Gallery & Kay Daugherty Gallery

Art Blooms Floral Design Exhibit - 11th Anniversary!
Saturday & Sunday, July 11 & 12, 2020, 10am-5pm both days; free admission
Art Blooms is a weekend exhibit featuring the work of more than 35 floral designers from across the region. Each floral designer is assigned a work of art in the Main Gallery or the Kay Daugherty Gallery and asked to create an arrangement inspired by that work of art. The results are surprising, beautiful, and provocative - and not to be missed. 2020 will mark the 10th year for Art Blooms, an exhibit co-hosted by the Calvert Garden Club and Ann's Circle of Annmarie Garden. Admission is FREE!

Love Art Blooms?
Join us for the Art Blooms Reception
Friday, July 10, 2020, 7-10pm.
Purchase Tickets here
Date:
Nov 13 2020
-
Jan 1 2021

Open Most Days & Open late on Garden In Lights evenings
Admission to the show & sale is free during the day; in the evening, Garden In Lights admission fees will apply.

Presented by the Annmarie Gift Shop, the Ornament Show & Sale is a juried show that features hand-crafted ornaments by more than 20 regional artists. This is the perfect place to find unique and affordable gifts for friends and family. The ornaments are beautifully hung on trees displayed in the Main Gallery of the Arts Building. Visitors shop off the trees and take their purchases to the Gift Shop. The show kicks off before Thanksgiving and runs through early January. During Garden In Lights, the show is open late!

Information for Artists
The Gift Shop at Annmarie Garden invites artists and craftspeople to apply to the Annual Ornament Show & Sale to take place during the holiday season. Artists and craftspeople working in any medium are invited to apply - fine arts, folk art, and craft media, toys, etc. The beautiful Main Gallery of the Arts Building at Annmarie Sculpture Garden will be the setting for the show. All sales will run through the Gift Shop, so artists need not be on site every day. Applications are reviewed on a first come, first served basis. ONLINE APPLICATION FORM