Our Galleries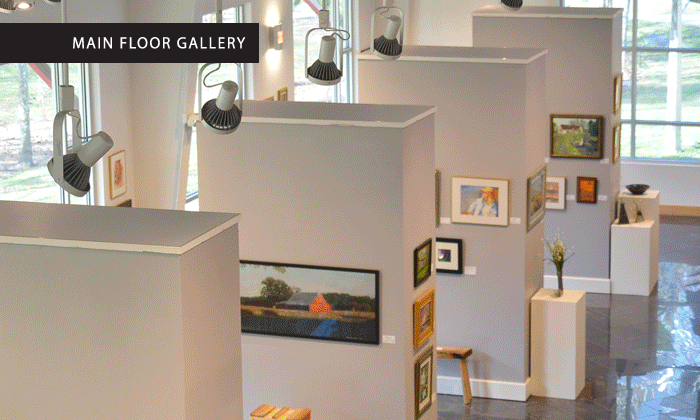 MAIN FLOOR GALLERY
Located on the first floor of the John Dennis Murray Arts Building, the Main Gallery is home to a myriad of various exhibits and events. The Main Gallery also hosts the Nature Nook, Annmarie's eco-education space, as well as the popular creative reuse center, artLAB.
KAY DAUGHERTY GALLERY
The mezzanine gallery in the John Dennis Murray Arts Building was dedicated on August 12, 2016, to Kay Daugherty, Founding Member of St. Mary's Creative Arts Forum and Arts Alliance, in appreciation of her devotion to the advancement of the arts in Southern Maryland and her admiration and support of local artists.
Funding for the dedication provided by:
Tom & Katie Watts
Tom & Helen Daugherty
Tom Waring
Old Line Bank
COMMUNITY GALLERY
Located in the Studio School building, Annmarie offers a nonjuried gallery space as an option for artists, arts organizations, schools, or individuals to hold a weekend gallery show, meeting, birthday party, or other private function. Email programs@annmariegarden.org for more information.
To learn more about our current, upcoming, or past exhibits, click HERE