2021 Summer Public Art Project: Light as a Feather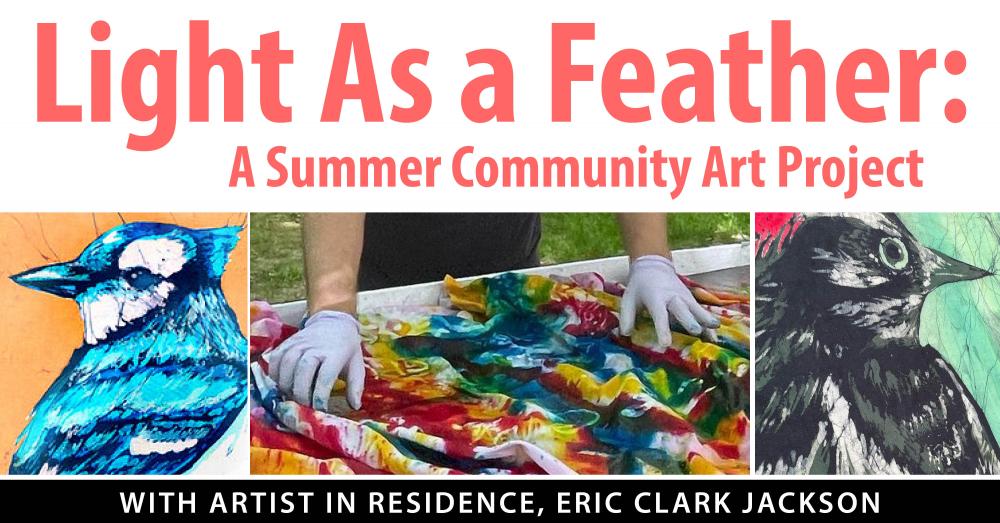 Join visiting batik artist, Eric Jackson, on select days in the park to contribute to a giant batik banner installation! Learn how to wax and dye fabrics in layers to achieve bold, brilliant designs. Stop by during one of the community art sessions to contribute to his large bird designs.
Daily Visitor Participation (self-guided fun!)
Make a bird-inspired pennant flag!
Drop in any day from August 7-Sept 5 to design a bird-themed pennant flag to hang here in the park! Inspired by Eric's large batik banners, your pennant flag will use crayon wax and diluted paint to achieve a batik-like effect. Great for any age! Leave your flag here to dry and we will
display it in the park through the fall, and then it will be incorporated into a glowing Garden in Lights installation!
Community Art Sessions (work with the artist!)
Work with the artist on large bird banners and nests!
Saturday, Aug 7 9am-2pm
Saturday August 28, 10am-2pm
Saturday Sept 4, 10am-2pm

My work is a contemporary interpretation of wildlife from the mid-Atlantic and Chesapeake Bay region. I think of the majority of my work as traditional wildlife illustration- fish, sea life, waterfowl, birds and the landscapes they inhabit, but with a modern and unique vibe.
I use traditional batik (wax resist & dyeing) processes in my work to create a trademark style in each image that seems anything but conventional. My aim is to create art that is bold but comfortable, and preserves the nature of the wildlife that may not be around forever. I hope my work can capture a place or a memory that rests in the past and in the present on the endless miles of shoreline of the Chesapeake estuary.
Raised on a creek off the Potomac River in Southern Maryland, Eric's art reflects a deep connection to the water and the wildlife inhabiting the watershed. With a deep interest in marine ecology, he was originally intent on pursuing biological sciences, but quickly found his calling was in the arts. He holds a Bachelor's in Studio Art and Art History from St. Mary's College of MD, '04 and a Master's in Art Education from St. Mary's College, '10. His distinctly styled wildlife illustrations are easily recognizable, and his work is in homes across the United States and abroad.
He has worked professionally as an architectural designer in aprevious life and has public work experience at a number of different levels. Eric is also deeply passionate about teaching and art education. As a teaching artist, he holds workshops and leads classes for adults and youth regularly. Eric's work is also licensed on a number of surface design products and clothing.
He continues to live and work off the Potomac River with his wife and two girls. When the weather is warm, and the jellyfish are gone, you can usually find him and his famly in or on the water involved in some sort of recreation.
Eric was one of our Artists in Action for 2021 working in a temporary studio at the Garden.