Start to Art: Mommy & Me Toddler Classes, APRIL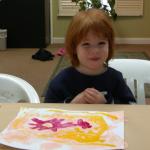 Age Group:
18 mos. - 3 years
Start Date:
Apr 6 2011 - 9:15am
Additional Dates:
Apr 20 2011
Time(s):
9:15 am - 10:00 am
Series:
Fuirst and Third Wednesdays of each month; register for each session individually
Member Cost:
$10 per parent/child couple, per session
Nonmember Cost:
$14 per parent/child couple, per session
Instructor:
Joanne Paskoff
Come bond with your little Monet-in-the-making! In a parent/child class, celebrate the tactile process of making art while exploring art media, listening to music, and making new friends. Sign up for one class or all of them—no two sessions are the same. Hurry! Space is limited.