Art + Story Sessions, March 5--NEW Afternoon times!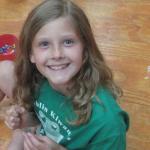 Series:
first and third Wednesdays of each month; register for each session individually
Member Cost:
$8 per child, per session
Nonmember Cost:
$12 per child, per session
Instructor:
Joanne Paskoff
Designed for preschoolers. These hour-long storytimes teach basic art elements, art styles, and even a little art history with wonderful children's books, imaginative games, and inventive art projects. Each student comes away with a matted artwork and greater appreciation of all things artistic! Sign up for one class or all of them—Hurry! Space is limited.