Just DRAW! Drawing Techniques for Kids --Shapes, Objects, Textures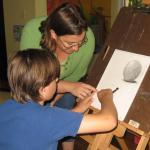 Start Date:
Oct 1 2011 - 10:00am
Additional Dates:
Oct 15 2011
Additional Dates:
Oct 29 2011
Additional Dates:
Nov 12 2011
Time(s):
10:00 am - 12:00 pm each class
Series:
four class series; sign up for each class individually
Materials Fee:
small materials list provided at registration
Instructor:
Joanne Paskoff
Learn basic drawing techniques to make your drawings POP! Learn various sketching techniques and discover simple approaches to shading and perspective to bring depth and dimension to your drawings.