Homeschool Days! Art and Architecture Part Two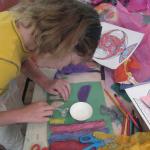 Start Date:
May 16 2012 - 1:00pm
Time(s):
1:00 pm - 4:00 pm
Member Cost:
$10 per child; $6 additional siblings
Nonmember Cost:
$14 per child; $10 additional siblings
Materials Fee:
all materials included
Instructor:
Joanne Paskoff
Add a touch of art to your curriculum and spend an afternoon exploring the gardens and the galleries! Join us in a class to study different architectural styles and landmarks through fun art projects, then search the Annmarie site for art that mimics what you've studied in class!
Parents please note: Children will participate in an art lesson from 1pm-2:30 pm, then they will explore the garden and galleries with their parents from 2:30pm-4pm as they complete a supplemental activity packet.
Take advantage of our sibling discount!
No two Homeschool Days are ever the same. Sign up for them all!