Homeschool Days! Environmental Art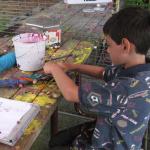 Time(s):
1:00 pm -4:00 pm
Member Cost:
$10 per child; $6 additional siblings
Nonmember Cost:
$14 per child; $10 additional siblings
Materials Fee:
all materials provided
Instructor:
Joanne Paskoff
Add a touch of art to your curriculum and spend an afternoon exploring the gardens and the galleries! Gain a sneak peek at our newest studio, the artLAB--a place where science and art merge to create wonderful discoveries. Join us in a class to study different art styles and techniques through fun art projects, then search the Annmarie site for art that mimics what you've studied in class!
Parents please note: Children will participate in an art lesson from 1pm-2:30 pm, then they will explore the garden and galleries with their parents from 2:30pm-4pm as they complete a supplemental activity packet.
Take advantage of our sibling discount! Price includes admission to the park for the whole family.
No two Homeschool Days are ever the same. Sign up for them all!