Fairy & Gnome Home Festival
Admission:
Members free; Non-members $7 per person, kids 2 & under free; no pets, no smoking/vaping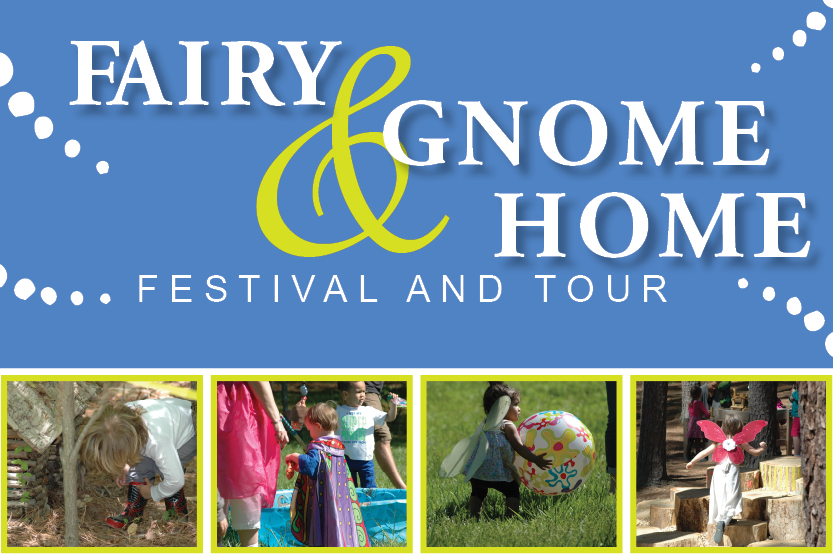 Sunday, April 19, 2020
11am - 3:00pm
Rain or shine! This is a smoke-free event; no pets; no smoking/no vaping
Enjoy an over-the-top magical afternoon of creative play, games, unicorn rides, a petting zoo, face painting, crafts and more! Journey through magical realms including the Fairy Lolly, Stone Story Circle, Bubblelandia, Gnomeville, Treetopia, and more. Build your own fairy house or gnome home, make-n-take activities, and engage in a variety of imaginative activities! It's an unforgettable day in the garden! Music, food, and drinks will be available as well!
Scroll down for all the details . . .


Magical lands, you'll visit at the festival:
Most activities are included with your admission. Those that have additional cost are marked with "$"
The Fairy Lolly
A wonderfully whimsical natural play space where kids can run, jump, climb, perform and more!
Go exploring for treasures at the Fairy Grove Mining Company, our mining sluice $
Search for hidden treats in the Treasure Trough
Mark Giuffrida will entertain in the Fairy Lolly with interactive music making
2019 Festival Performances - 2020 SCHEDULE COMING SOON!
Take a seat and be entertained throughout the afternoon!
11:15 – 11:45am ~ Kristen Rebecca (Celtic & folk music )
Noon – 12:45pm ~ Painted Trillium (World, Celtic & folk music)
1:00 – 1:45pm ~ The Wild Irish Rose (IrishCeltic music & dance, bluegrass & Americana)
2:00 – 2:45pm ~ COSMIC Flute Choir (flute choir arrangements)
3:00 – 3:45pm ~ Southern Middle School Chamber Orchestra (classical, folk & pop variety)
Stone Spire Circle
Meet a Fairy Godmother! Be inspired by her stories and create some of your own with puppet play!
Enjoy the WILD photo opp!
Bubblelandia
Twirl to the music in a shower of bubbles with Jennifer Shannon and create giant bubbles of your own!
Joel Tuminaro will supply magical handpan music.
Gnomeville
Build a fairy house with natural elements found at the Garden, always a crowd favorite!
Take photo with Gus the Gnome
Treetopia
Make a lovely leaf art to take home
Meet the Green Tree Man
Grab a fortune from Madam Oblivia's Fortune Tree
Mystical Meadow
Visit the petting Zoo with baby animals!
Take a ride on a unicorn! $7.00
The Dragon's Lair-- (In the Arts Building)
Visit the artLAB to make a dragon's egg that really hatches! $
Meet Hester and her extraordinary creatures in the Nature Nook. Learn about her other dragon-like oddities.
Pose with a dragon's nest and slay a dragon!
And there's more!
We encourage visitors to dress up and make the most of your magical experience; fairies, trolls, gnomes, anything goes ... we love them all!
Tatoos and Facepainting Always adds a little magic! $
The Magical Marketplace
Shop for fairy-themed items at our market.
Fantastic Festival Fare
You won't go hungry with our festival food vendors.