Slingin' Mud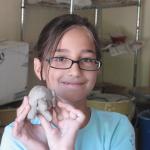 Age Group:
Entering grades 4-6
Start Date:
Jul 21 2014
-
Jul 25 2014
Time(s):
9:00 am - 3:00 pm daily
Get ready to make a mess as we explore various hand-building techniques in clay. Experiment with pinch, slab, and coil techniques to make unique bowls, vases, trays, or sculptures. Use colorful under-glazes and surface decorations to make your pieces unique!
This camp is FULL.
Interested in our extended day program? CLICK HERE!