Buggin' Out: Insects in Art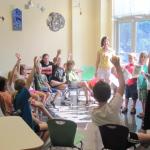 Age Group:
Entering grades 1-3
Start Date:
Jun 23 2014
-
Jun 27 2014
Time(s):
9:00 am - 3:00 pm daily
Explore the world of insects through colorfully creative art projects! Learn about insects from around the world and right here at home as we depict them in their natural environments using drawing, painting, collage, and more. Each student comes away with a variety of creepy, crawly masterpieces.
Interested in our extended day program? CLICK HERE!