Teen Workshop Sampler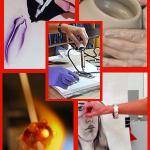 Age Group:
Entering grades 10-12
Time(s):
9:00 am - 12:00 pm daily
Series:
week-long workshop
Can't decide which teen workshop to take? Why not start by trying our sampler?! Explore a variety of art media and tools not typically found at school. Learn stained glass, torched glass, airbrush, graffiti, potter's wheel, fashion design, and life drawing techniques as you create several small artworks and explore these fun new processes.