Enjoy extended evening hours in the garden in celebration of the opening of our new exhibit, "Bloom & Grow: Brilliant Botanicals."

Read more
Date:
Feb 14 2020 - 12:00am
-
Sep 27 2020 - 5:00pm
Gallery:
Kay Daugherty Gallery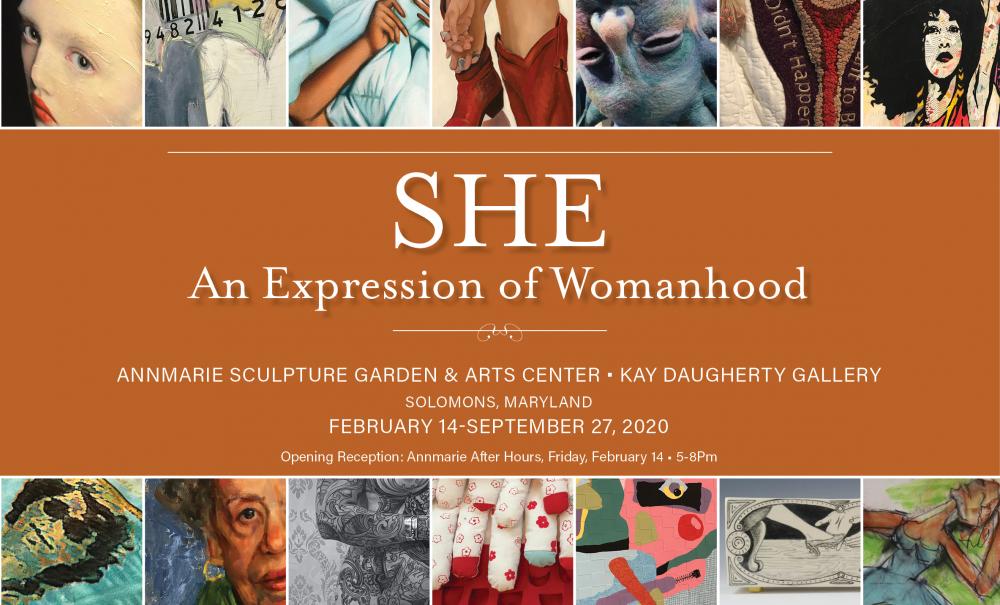 She: an Expression of Womanhood
February 14 - September 27, 2020
Contributing Artist(s):
Aurora Abzug, Gloria Adams, Esperanza Alzona, Maremi Andreozzi, Jocelyn Braxton Armstrong, Brandin Baron, Carol Blum, Barbara Boward, Denise Breitburg, Julie Byrne, Erika Cleveland, Shelby Teddi Corso, Linda Rae Coughlin, Donna Feldman Davis, Edie Dillon, Evee Erb, Alyson Annette Eshleman, Elise Fechtmann, Diane Fenster, Julie Fisher, Amy Fix, Carmen Lee Nance Gambrill, Xia Gao, Jayne Bentley Gaskins, Lynsey Georgen, Suzanne Gibbs, Sullivan Giles, Marcia Haffmans, Jane Hartman, Sylvia Hill, Laura Douglas Howell, Helen Hunter, Takeisha Jefferson, Carson Kapp, Elizabeth Kendall, Katherine Knight, Megan Koeppel, Shana Kohnstamm, Elisabeth Ladwig, Susan Lane, Mary-Ellen Latino, Rachel Linnemann, Addison Newton Likins, Leah Macdonald, Bernard Mangiaracina, Lex Marie, Marla McLean, Lilianne Milgrom, Lavely Miller-Kershman, Gina Novendstern, Valerie Patterson, Denise Shamoun Phalan, Alina Poroshina, Susan Pyzow, Roz Racanello, Dusty Rose, Carolyn Schlam, Leslie Singer, Amy Smith, Anne Spence, Sylvia G. Stephens, Samantha Stover, Francine Stowe-Sinkler, Janice Sztabnik, Ellie Tryon, Andrea Velazquez, Monica Velez, Carol Wade, Anna Watson, Rachel Larsen Weaver, Lisa DeLoria Weinblatt, Tony Weisberg, Pamela Wilde
2021 dates to be announced
Date:
Apr 3 2020
-
Sep 7 2020
Gallery:
Sculpture Garden

11th Annual Fairies in the Garden
Contributing Artist(s):
Christy L., Elizabeth C., Christy F. Smith, Vincent Landreth, Stacey Hann-Ruff, Erin Cole, Duane Salzman, Joann Foltz, Richard Mooney, Lauren Park, Emily Campagna, Jill Nielson, Lainey Nielson, Drew Nielson, Stephanie Zyga, Lena Zyga, Molly Zyga, jo Norhtern, Mary Lopez, Haley Lopez, Malian Lopez, Debbie Erb, Nicole Kobrine Garrett, Kaitlyn Garrett, Cali Garrett, Tyler Garrett, Cindy Kobrine, Maeve Childress, Wrenna Childress, Solomons Veterinarians Staff, Megan King, The Allen Family, AMG Fairy House Flippers, Beth Beighley, Naimah Coogan, Kathrin Bizzarro, Grace Stencel, Amelia Stencel, Sabrina, Julie Kirkner, Harrison Holmes, Joseph Holmes, Edel Holmes, Ian Holmes, Romi Landreth, Mama La Landreth, Caryolyn Schindler, Anon Y. Mous, Hannah Graham, Glinda Gqitch, Robin Finnacom, Emery, Piper, Grammie, Susan Leannarda, Liz Wilson, Jon Wilson, Isabelle Wilson, Victoria McCaffery, Robert McCaffery, Chris McCaffery, Elizabeth Harrington, Holly Budd, Helen Lindsay, Pat Biles, Eryn Fleming, hannah Fleming, Thomas Fleming
Date:
Apr 3 2020
-
Jul 31 2020
Gallery:
Fairy Lolly & Demas Family Discovery Garden
Through July 31
Contributing Artist(s):
Jess Commodore, Zi Commodore, Jaylasia Commodore, Lawrence Fullerton, Girl Scout Troop 10021, Patuxent Babywearing, Kyleigh Welch, Chrissy Welch, Bob Harvat, Carol Harvat, Carol Wade, Evelyn Rapp, Tylean Krzywdik, Diane Krzywdik, Selena Howson, Rachel Howeson, Brooke Cowan, Abigail Anderson, Sydney, Shawn, Chloe, Exra, Little Bugs Family Daycare, Wendy Collien, Karen Richar, Isabella Siracusano, Lucia Siracusano, Vivian Slade, Cook Family, Jackson Crowell, Violet Crowell, Eryn Fleming, Thomas Fleming, Hannah Fleming, Evie Rapp, Bowen Rapp, Allison Rapp, CharlotteKubilus, Johnny Kubilus, Jer Kubilus, lee Barksdale, Don Barksdale, Ash Barksdale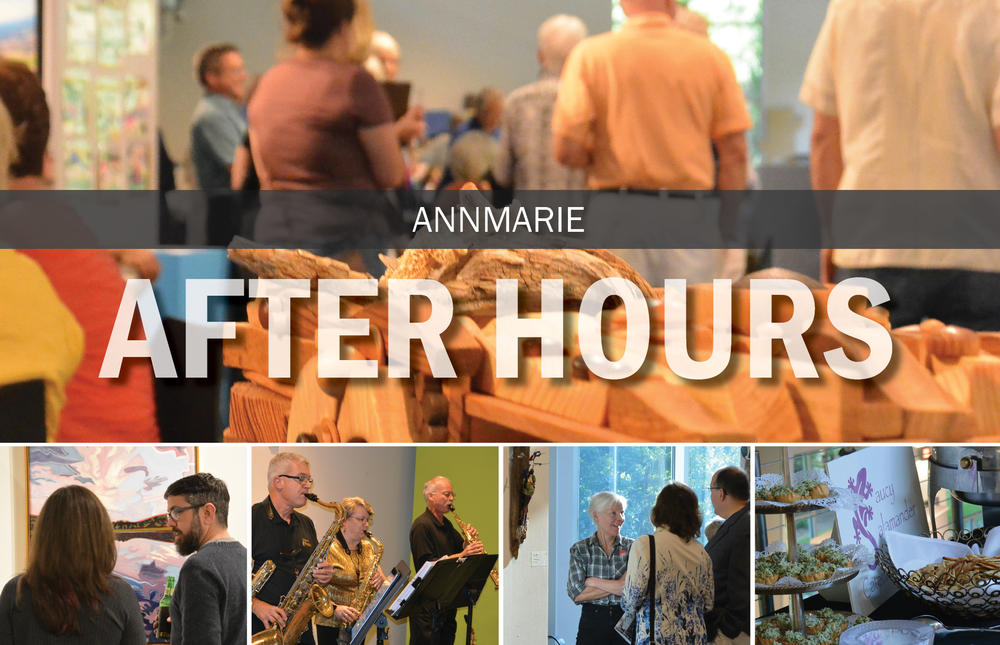 Make a date with Annmarie to enjoy a casual adult evening of great art, wine & beer, light hors d'oeuvres, and live music. Stop by Annmarie before or after dinner and make it a night on the town. No reservations required! Free for members; $5 for non-members. Must be 21.