Date:
Dec 1 2021
-
Dec 12 2021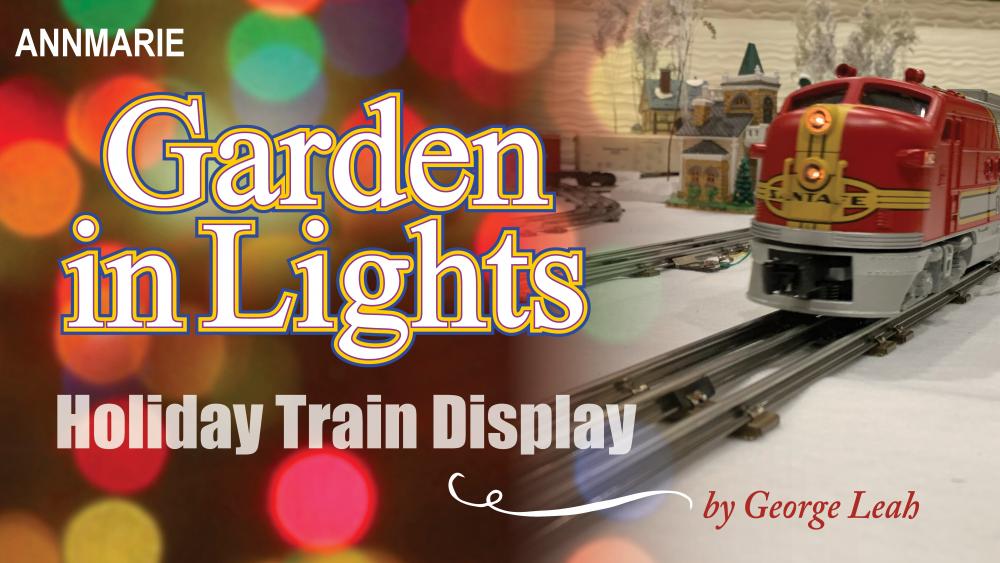 HOLIDAY TRAIN DISPLAY @ Annmarie Garden In Lights
December 1-12, 2021, 5:00-8:45 pm each night
(closed Dec 6 & 7)
*Included with light show ticket; advance timed-entry tickets required
*Masks required in the Arts Building for all guests over the age of 2.
Admission to train display is included with light show ticket. Please note that light show requires an advance timed-entry ticket.
TICKETS HERE

Guests of all ages will delight in this beautiful train display brought to us by our friend George Leah, Jr. It's a charming exhibit that will spark memories of Christmases past and delight those new to model trains. George will be operating an "O" scale train display featuring trains from the 1950s through today, meandering through a miniature landscape.

NEW THIS YEAR! George has expanded the display to 25'x10' to include a winter village, an animal park, a magical frozen lake, princesses, and a spaceship Earth section. George will be available to talk with and ask questions.

Masks are required inside the Arts Building for all guests over the age of 2.

ABOUT Annmarie Garden In Lights:
Join us for Annmarie Garden In Lights, a magical holiday light show that takes visitors on a beautiful walk through the glittering woods. As you stroll the protected path, you will be surrounded by spectacular light experiences and magical "light sculptures" depicting sea creatures, wintry wonderlands, princesses, superheroes, and much more. Don't forget to ask for a "Holiday I Spy" program.

Enjoy Holiday Shopping in the Arts Building; food and drink will be available for purchase.
Annmarie Garden In Lights
November 26, 2021 - January 1, 2021
5:00-9:00pm nightly
(CLOSED Dec. 6, 7, 24, 25)
No smoking. No vaping.
No pets except on Pet Night (Jan. 1).
For detailed schedule, visit
www.annmariegarden.org.
The Arts Building is handicap accessible. The 1/4 mile light show path is uneven and dimly lit. Guests with vision and/or mobility issues are encouraged to take advantage of our Golf Cart Tour Nights on Dec 13 and 28.
For more information, call 410-326-4640.