Date:
Nov 30 2022
-
Dec 14 2022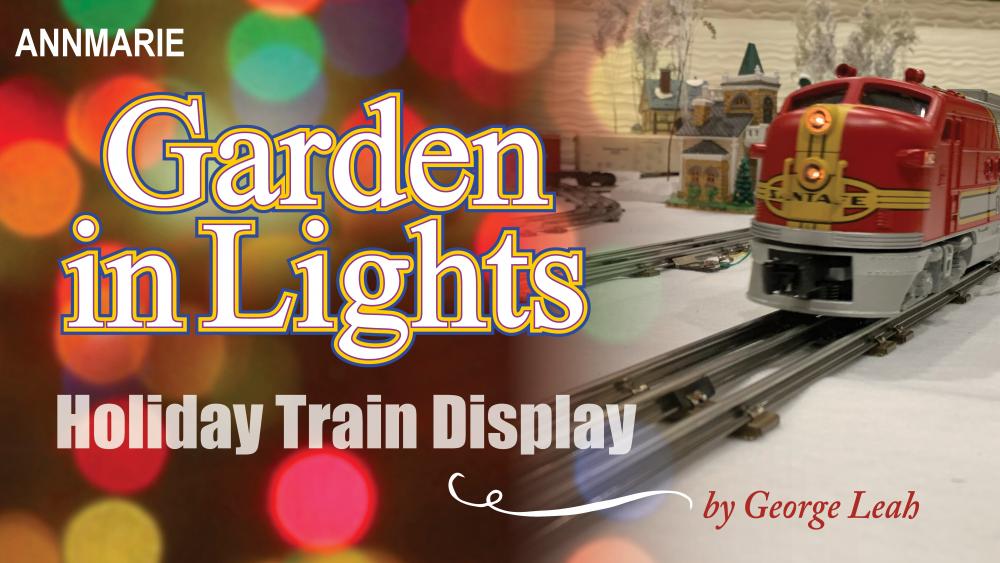 HOLIDAY TRAIN DISPLAY @ Annmarie Garden In Lights
November 30 - December 14, 2022, 5:00-8:45 pm each night
(closed some evening)

Admission to train display is included with light show ticket. Please note that light show requires an advance timed-entry ticket.
TICKETS HERE

Guests of all ages will delight in this beautiful train display brought to us by our friend George Leah, Jr., and his holiday helpers. It's a charming exhibit that will spark memories of Christmases past and delight those new to model trains. George will be operating an "O" scale train display featuring trains from the 1950s through today, meandering through a miniature landscape. George's display inclues a 25'x10' to include a winter village, an animal park, a magical frozen lake, princesses, and a spaceship Earth section. George will be available to talk with and ask questions.
Come see what new elements George has created for 2022!
ABOUT Annmarie Garden In Lights:
Join us for Annmarie Garden In Lights, a magical holiday light show that takes visitors on a beautiful walk through the glittering woods. As you stroll the protected path, you will be surrounded by spectacular light experiences and magical "light sculptures" depicting sea creatures, wintry wonderlands, princesses, superheroes, and much more. Don't forget to ask for a "Holiday I Spy" program.

Enjoy Holiday Shopping in the Arts Building; food and drink will be available for purchase.
Annmarie Garden In Lights
November 25, 2022 - January 1, 2023
5:00-9:00pm nightly
(closed some evening)
No smoking. No vaping.
No pets except on Pet Night (Jan. 1).
For detailed schedule, visit
www.annmariegarden.org.

The Arts Building is handicap accessible. The 1/4 mile light show path is uneven and dimly lit. Guests with vision and/or mobility issues are encouraged to take advantage of our Golf Cart Tour Nights on Dec 12 and 29.

For more information, call 410-326-4640.
Date:
Feb 10 2023
-
Apr 23 2023
Gallery:
Kay Daugherty Gallery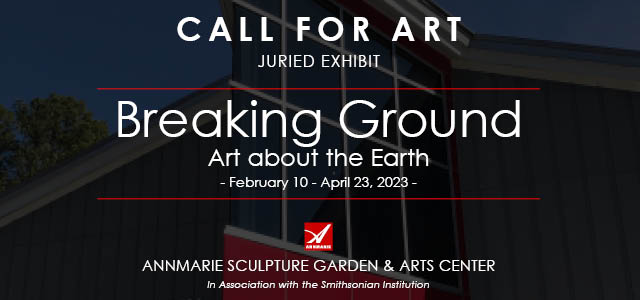 Annmarie Sculpture Garden & Arts Center is thrilled to present the exhibition 'Breaking Ground: Art about the Earth' in the Kay Daugherty Gallery. This exhibition will be open to the public from February 10 – April 23, 2023.

Art has long been a partner of natural science to document our experiences. Imagination and vision are required when responding to the challenges of our ever-changing environment due to climate change in urban and rural ecosystems. Annmarie invites artists to engage in our mission to connect art and nature by creatively visualizing the impacts of sustainability on our Earth. This show will feature works highlighting the fragility, ferocity, beauty, transformation, and stark realities induced by human behavior.

"No matter how much one may love the world as a whole, one can live fully in it only by living responsibly in some small part of it."

― Wendell Berry


JUROR: Anna Manyak Davis, Postdoctoral Fellow, Smithsonian Environmental Research Center