2016 Artsfest Logo Artist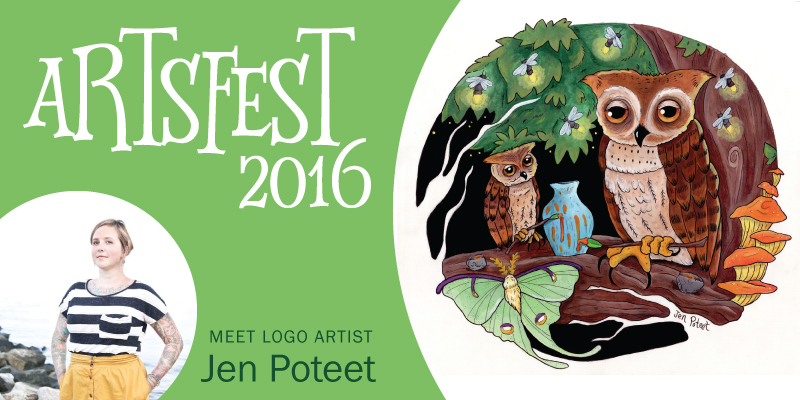 Annmarie Sculpture Garden & Arts Center is proud to announce this year's Artsfest identity image by artist Jen Poteet, titled "Spirit of the Garden". Artsfest, a juried fine arts festival featuring over 165 artists, will be held September 17 & 18 at Annmarie Garden. Each year, a regional artist is selected to create an image that is used to represent the popular fine arts festival. The artwork will be used to promote the festival and will appear on advertising and promotional materials. T-shirts featuring the design have become collector's items for many festival enthusiasts throughout the years. The artwork this year is a whimsical painting featuring some of our favorite nocturnal woodland creatures and playfully conjures images of the magic that goes on at night at Annmarie Garden. "We love Jen's refreshing approach and feel she has captured the essence of Artsfest as well as Annmarie Garden." says Stacey Hann-Ruff, Director of Annmarie Garden.
Poteet's work has been featured in a number of exhibits in the Annmarie galleries, most recently as part of the Swarm: Invasion of the Insects exhibit. She has participated in the Artist in Action program at Annmarie Garden, where artists set up studio space in the galleries allowing the community to see their artistic process and technique in action. Her work will be familiar to regular attendees of Artsfest as she has participated as a vendor in past years.
"When brainstorming for this piece I wrote down what Annmarie Garden embodies for me and my family." said Poteet, "First there is the symbiotic relationship between art and nature that is a constant theme for not only Annmarie Garden but for my own work as an artist. Second is answering the question why do we create art to begin with; to inspire others to create and to teach the skills necessary to do so. There is also something magical about the Garden that I hope I conveyed in my painting."
Visitors to Artsfest will have the opportunity to meet Jen and even have her sign a t-shirt, as she will have a booth again this year as a vendor. The event also features live entertainment, activities for kids and food. For more information, visit www.annmariegarden.org.