Artsfest Entertainment

Artsfest '19 Performance Schedule
Jazz - Rock - Country - Bluegrass - Americana - Folk - Afro-Pop - A Capella
Classical - Gypsy Jazz - Blues - Fusion - Irish & Scottish - Dance & More!
More than 30 Performers - 3 stages - Street Performers - Strolling Musicians
NEW! Visit our lovely new Waterside Patio for casual creekside performances!
The Performing Arts at Artsfest
Artsfest is a celebration of the performing arts! Throughout both days, guests will enjoy more than 25 bands performing jazz, rock, bluegrass, country, folk, classical, gospel, and blues, along with a number of dance performances. You will be enchanted by the many strolling musicians, street performers, and balloon and bubble artists, that wander through the festival. Whether you enjoy discovering a street performer around the next bend of the Wooded Path, or sitting under the Main Stage sipping a craft beer while you enjoy some hot jazz, Artsfest offers a smorgasbord of live entertainment. Scroll down to review this year's lineup.
PRELIMINARY ENTERTAINMENT SCHEDULE (Subject to change)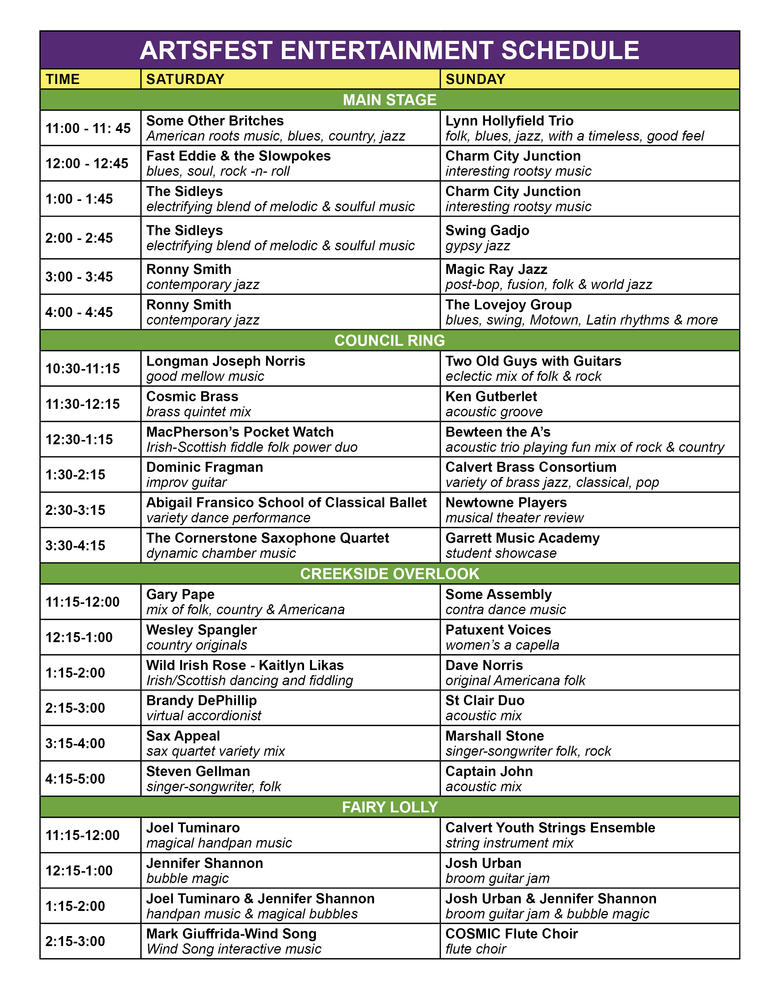 STROLLING PERFORMERS
Joel Tuminaro - hand pan - Saturday 10:00am-4:30pm & Sunday 11:00am-4:30pm
Mark Giuffrida Wind Song Music-Making - Saturday & Sunday, 11:00am-4:30pm
Bubble Artist-Jennifer Shannon - Saturday 11:00-3:00 & Sunday, Noon-2:00pm
Stilts, Mimes & Statues - Saturday 11:00am-4:00pm & Sunday Noon-3:00pm
Josh Urban - broom guitar jam - Sunday, 12:15-2:00pm
MORE FUN!
My Henna Hands
SPONSORED BY: