Become a Member!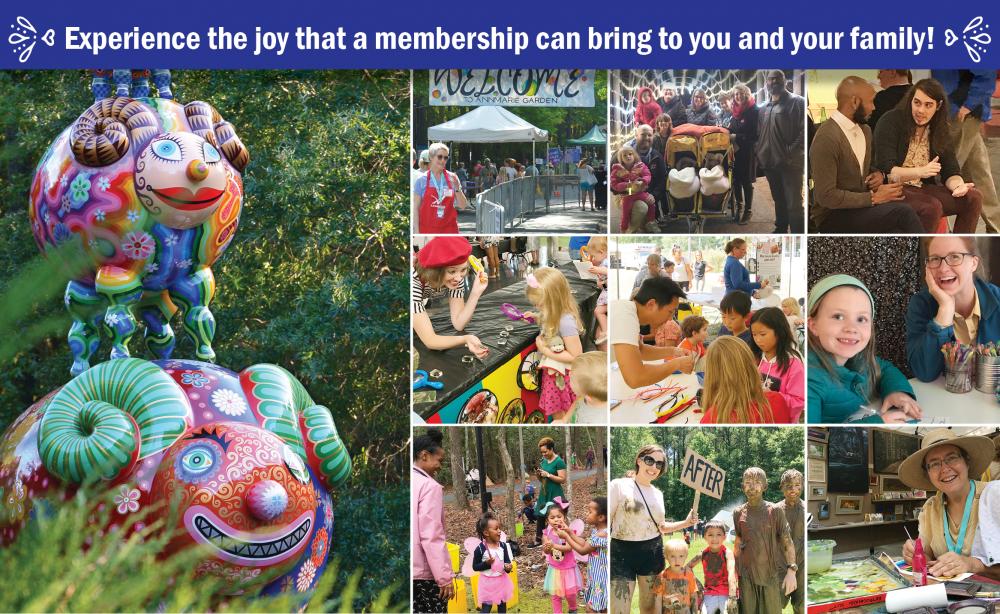 Experience the JOY that a membership at Annmarie can bring to
you and your family!
EXCLUSIVE BENEFITS INCLUDE:
~ Unlimited daily admission to the garden and grounds
~ Admission to all art exhibits, special events and festivals including Artsfest, Halloween &
Garden in Lights
~ Quick entry at our most popular events, using the "Member Entrance"
~ Guest passes to share with friends
~ Discounts on Virtual Programs, Summer Camps, Birthday Party Packages & Classes
~ A member discount in our unique Gift Shop
At Annmarie, we love bringing the community together through art and nature. Our team works passionately every day to help make Southern Maryland a happy, healthy and connected place to live and work.
DID YOU KNOW? Becoming a member helps ensure Annmarie Sculpture Garden & Arts Center will be here to inspire for generations to come. Make a difference by joining our community – and experience the JOY of Annmarie!
For an additional $15, Annmarie Members can add a Smithsonian Membership as part of their Annmarie Membership
(a $29 value!)
- One-year subscription to Smithsonian magazine (11 issues) or Air & Space magazine (6 issues)
- 10% discount off all purchases from the Smithsonian catalogue and SmithsonianStore.com
- Discounts on shopping and dining at the Smithsonian
- Travel and tour opportunities with Smithsonian Journey's
- Two personalized Smithsonian Membership cards
- 10% discount on Folkways Recordings

*Please note that the Smithsonian does not manage or provide any funding to Annmarie Sculpture Garden & Arts Center.