Summer Camps 2023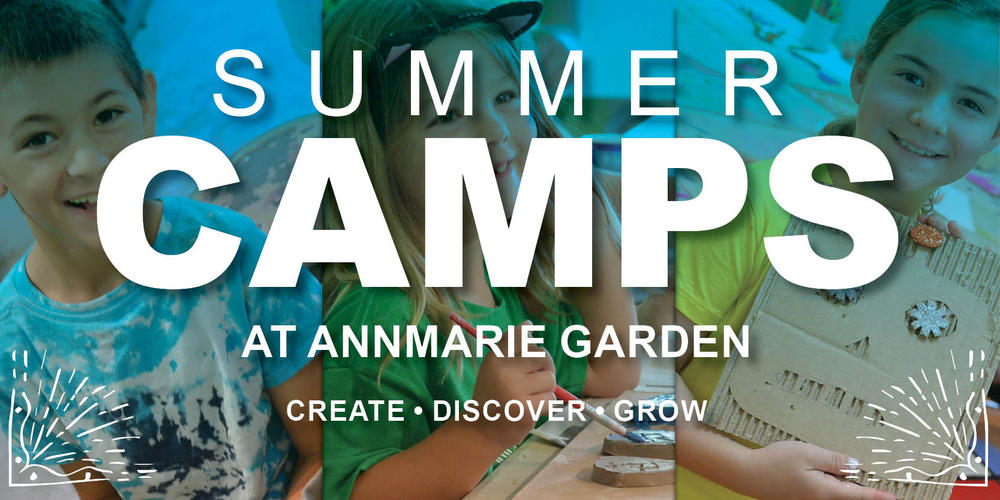 Summer Camps 2023
We've reworked our summer camp program to keep everyone safer, more active, and having fun! We'll utilize more outdoor classroom spaces and allow for short cool down activities indoors. All campers will visit the favorite spaces of Annmarie-- from the galleries, to the Nature Nook, the artlab to the clay studio, the fairy gardens to forest trails,to the gem mining sluice and the Fairy Lolly nature play space. Annmarie summer camps encourage your child to explore their creativity, discover the natural world, meet new friends, and learn from working artists. Summers at Annmarie are active, fun, and stimulating – join us this summer as our campers create, discover, and grow!
2023 Summer Camp Schedule-- register here!

Members-only Registration begins Monday, February 6, 2023
General Registration begins Tuesday, February 21, 2023

IMPORTANT FORMS & INFORMATION:
SUMMER CAMP HANDBOOK This handy guide includes what to wear, what to bring, registration policies, cancellation and refund policies, and more.

EMERGENCY FORMS - Required for ALL campers. For your convenience, this form is now part of the online registration process. Registration will not be complete without submitting all the required information.

MEDICATION FORMS & POLICIES - If your child requires any kind of medication at camp, an authorization form and care plan MUST be completed and signed by their physician for EACH medication. Incomplete or unsigned forms will not be accepted. We are sorry, but we cannot accept any medication without these forms. As a state-certified summer camp program, we must follow the guidelines. If you have any questions, feel free to email registrar@nnmariegarden.org. Click on the link to download the forms. Forms are due June 1st.

CAMP TSHIRTS! Consider purchasing a summer camp t-shirt to use an art smock or to serve as a fun souvenir of colorful summer camp memories! Proceeds benefit future youth arts programming. Order now through May 23rd!
FINANCIAL ASSISTANCE Learn more about our scholarship program here.
Summer Camp Registration Fees - please note that there will be no refunds after May 1.
BEFORE registering your child for a summer camp, please read the SUMMER CAMP HANDBOOK, which includes our registration, cancellation, and refund policies.